It doesn't get any more brutal than this really, a Florida Judge - U.S. Magistrate Judge Alicia Otazo-Reyes- is questioning the whole legality of PDVSA US Litigation Trust:
"A Florida federal judge on Monday quashed dozens of subpoenas issued by Venezuela's state-owned oil company against defendants accused of operating a bribery scheme, and also said she would allow limited discovery on the issue of whether the company has standing to pursue its claims."
"In a hearing in Miami, U.S. Magistrate Judge Alicia Otazo-Reyes said she would grant the defendants' motion to quash the many subpoenas from a litigation trust associated with Venezuela's state-owned oil company Petroleos de Venezuela SA as premature, because discovery has not yet begun in the case."
"Judge Otazo-Reyes also set an expedited schedule for discovery on the question whether the paintiff, PDVSA US Litigation Trust, has standing to pursue the bribery claims."
I have taken an interest on the issue, simply because I believe that the so called PDVSA US Litigation Trust is a sham, set up with the "help" of Wilmer Ruperti to settle old scores. The best indication yet might well be the fact that while the litigating trust was preparing its case against 49 defendants, including Trafigura, Glencore and some othe world's largest energy trading companies, PDVSA was actively pursuing trading deals with Trafigura.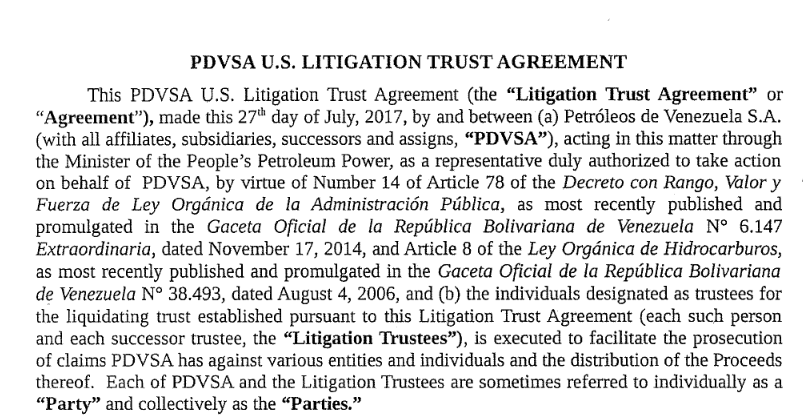 The document setting up PDVSA US Litigation Trust agreement, claims PDVSA had the power to transfer "without recourse" all of its "rights, title and interests" related to legal actions started by Boies, Schiller & Flexner. This is, of course, utter nonsense and illegal, for such deals -specially detrimental ones- must be approved by Congress. Venezuela's Attorney General Reinaldo Muñoz Pedroza and (now arrested) Nelson Martinez, acting then as Venezuela's Minister of Energy, signed the agreement. While they were doing that PDVSA's current CEO and replacing Minister of Energy Manuel Quevedo, and PDVSA's VP Ysmel Serrano, were negotiating with Trafigura. A Cyprus-registered shell called Algamex is designated in the agreement to "provide fees, expenses and cost of the Litigation Trust." There's a good legal explanation about where the Trust stands here.
The standing of the Litigation Trust is not only been questioned by defendants and U.S. Magistrate Judge Alicia Otazo-Reyes. In practice, PDVSA's top management, the Minister of Energy, and the most powerful power brokers in Venezuela (President Nicolas Maduro, VP Tareck el Aissami and Diosdado Cabello) are making a mockery out it.
In email communications, Trafigura's Sebastian Gallie proposed to PDVSA's top management creation of a "non-incorporated Joint Trading Venture" in Geneva with the stated purpose of circumventing U.S. sanctions. Top Trafigura's executives Christophe Salmon and Stephan Jansma were part of the communications and are sailing very close to the wind here. None have replied requests for comment.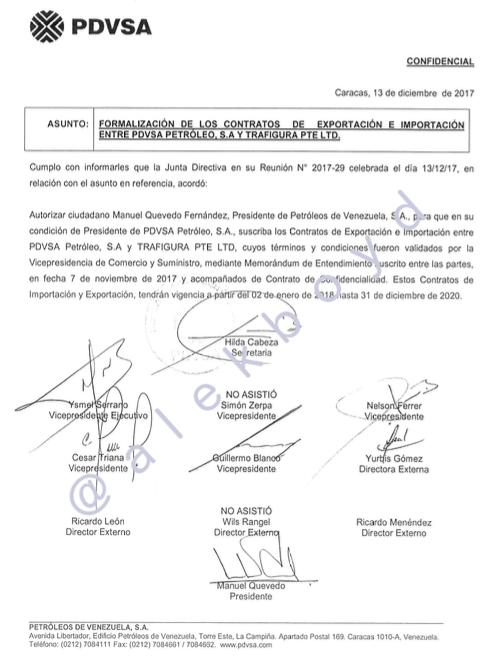 Reuters reported back in December 2017 "PDVSA in talks with Trafigura to swap over 10 pct of crude output - documents". What Reuters did not report however, is that Manuel Quevedo, PDVSA's CEO and Minister of Energy (Diosdado Cabello's man), had been approved by PDVSA's board to deal with Trafigura, which has kept its commercial relations with PDVSA. Ysmel Serrano, PDVSA's VP and representative of Tareck el Aissami, also signed.
The letter above corroborates that a MoU about the $700 million "Collateralized Prepayment Facility" and Geneva-based "non-incorporated Joint Trading Venture" between PDVSA and Trafigura deal discussed with Trafigura in late September - early October was as matter of fact signed on 7 November 2017.
Trafigura's Patricio Norris visited PDVSA offices in Caracas in late March this year, weeks after Litigation Trust had filed lawsuit against Trafigura on 3rd March.
Documents seen by this site shows Patricio Norris as the Trafigura representative dealing with PDVSA's Manuel Quevedo. Other documents show Trafigura and PDVSA did deals under contract no 37000216 in February and March.
So the questions remain: how can PDVSA's CEO be dealing with Trafigura -a defendant being sued by PDVSA for billions of dollars worth of losses?
What does such dealing say about PDVSA US Litigation Trust standing?