Submitted by

Alek Boyd

on Tue, 10/05/2011 - 09:02
Spanish
"Estimado Ramón. Fraterno y bolivariano saludo, con los deseos de pronta recuperación para verlo de nuevo por estos lados."
Así empieza el archivo de comunicaciones entre las FARC y el régimen de Hugo Chavez. Ramón, es Ramón Rodriguez Chacín. El remitente es Raul Reyes, el terrorista asesinado en Ecuador en Marzo del 2008. La comunicación, la cuarta del archivo sobre Venezuela del CD que acompaña la publicación "The FARC Files: Venezuela, Ecuador and the Secret Archive of 'Raúl Reyes'", data del 11 de enero del 2000. A la primera pagina le siguen 854, de comunicaciones entre el grupo terrorista y el gobierno, supuestamente pacifista, progresivo y democratico del teniente coronel golpista Hugo Chavez. Tenemos todo el futuro por delante para ir deshilvanando esta madeja, y desde luego que todo venezolano que tenga interés por la historia política contemporánea de nuestro país debe estudiar estos archivos. Por los momentos me limitaré a hacer algunos comentarios sobre el lanzamiento del dossier.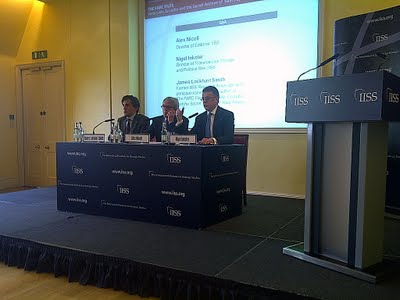 De izq. a der.: Lockhart Smith, Nicoll e Inkster.
La presentación inicial fue hecha por Nigel Inkster, quien funge como Director de Riesgo Político y Amenazas Transnacionales del Instituto Internacional de Estudios Estratégicos (IISS por sus siglas en inglés). Dicha presentación puede leerse aquí en español. El sumario del dossier puede leerse aquí. A Inkster lo acompañaron Alex Nicoll y James Lockhart Smith, quien fue el investigador principal a cargo del dossier.
Debo admitir que muy pocos de los argumentos de Inkster fueron novedosos. El más importante, a mi parecer, fue la admisión que el gobierno de Colombia, en ese entonces con Alvaro Uribe al frente, le hizo entrega de todo el archivo recuperado en el bombardeo al campamento de Reyes en Ecuador. Es decir, el gobierno de Colombia no impuso condiciones en la investigación, y subsiguiente publicación del archivo. Según Inkster, los 609 gigabytes de data e información fueron entregados al IISS, el cual aceptó involucrarse en el asunto sin saber el tamaño de la tarea que estaba emprendiendo. Le pregunté a Inkster cuándo podríamos, los interesados, acceder al archivo en su totalidad. Me respondió diciendo que ello dependía de si el IISS consigue los fondos necesarios como para continuar con la investigación. Inkster dice que el archivo, en formato original, es muy difícil de interpretar, por cuanto la información no fue archivada de forma cronológica (?). Inkster defendió la imparcialidad del IISS diciendo que el instituto no tenia vela en ese entierro.
Precisamente por que no tiene vela en ese entierro, las conclusiones de los expertos del IISS pueden tildarse, desde mi perspectiva, de ingenuas. A preguntas como "¿qué de la relación entre ETA y FARC?" Lockhart Smith respondió diciendo "no hay evidencia de una conexión directa, en los archivos, de arreglos entre las FARC y ETA con la participación o conocimiento de Chavez". El que no conozca, o no haya escuchado, de Arturo Cubillas, su cedulación, su cargo oficial, su relación matrimonial con la mano derecha de Elias Jaua y antigua secretaria de Chavez, que se lo crea. Es evidente, por las preguntas formuladas en la sesión de preguntas y respuestas, que ni siquiera los periodistas españoles presentes en el evento tienen un conocimiento claro de la situación.
De igual forma, se ve que Lockhart Smith conoce mucho del contenido del archivo, pero no tanto de todo lo que ha sucedido en Venezuela desde finales de los 80. A la pregunta sobre la solicitud de un colaborador de Ali Rodriguez Araque a las FARC de asesinar a Henry Lopez Sisco, a quien se ha identificado como de oposición (?), Lockhart Smith no mencionó que Ramon Rodriguez Chacin -principal contacto de las FARC en Venezuela- y Lopez Sisco trabajaban juntos y están involucrados en los asesinatos del CEJAP en el Amparo. De hecho Lockhart Smith dijo que Lopez Sisco habia trabajado para la campaña de Manuel Rosales en el 2006. Habiendo participado durante tres meses en esa campaña, y habiendo asistido a reuniones hasta el más alto nivel con Rosales y sus colaboradores, puedo afirmar que no vi, ni recuerdo haber escuchado hablar de Lopez Sisco entre mediados de septiembre y principios de diciembre del 2006. De hecho, me atrevería a decir que las únicas fuentes donde se menciona una supuesta alianza entre Lopez Sisco y Rosales son medios chavistas (*ver sección comentarios).
Lockhart Smith dijo algo que me pareció sumamente acertado: "Chavez is a leopard that can change its spots", en alusión a la actitud del caudillo de traicionar a quien sea, cuando sea, si ello le aporta reditos. El argumento fue la respuesta a una pregunta sobre la dizque "relación amistosa" entre Santos y Chavez. Para quien no conozca lo que existe tras bastidores, la supuesta mejoría de la relación bilateral con Colombia puede parecer novedosa. No obstante, sigue siendo evidente que Santos tiene el sartén agarrado por el mango, y sus imposiciones a Chavez, a firmar acuerdos o capturar y extraditar terroristas de las FARC de forma sumaria, son actos signados por un caudal de evidencia incriminatoria que el cachaco le recuerda a Chavez a cada rato. Siendo que Chavez es un hipócrita que lo único que persigue es atornillarse en el poder, pues es tonto pensar que va a arriesgar su pellejo político poniendose del lado de las FARC, al menos abiertamente. Subrepticiamente, todos sabemos que las FARC siguen de lo más campantes en Venezuela, quizás en nuevos campamentos, secuestrando, enviando toneladas de cocaína a los mercados internacionales, pues como bien dijo Inkster, el ejercito venezolano carece de la capacidad para combatir a las FARC, y éstas han penetrado exitosamente, desde hace muchos años, el estamento político y aparato de seguridad del estado en Venezuela. Si a ello le agregamos la designación de un notorio colaborador de las FARC, Henry Rangel Silva, como encargado de la inteligencia en Venezuela, pues poco puede esperarse de Chavez, en esta "nueva" relación con Colombia.
Lockhart Smith afirmó que Chavez habría buscado beneficiar a las FARC a través de una triangulacion, mediante la cual petróleo venezolano sería donado a las FARC, con cuyos dividendos éstas podrían adquirir lanza cohetes del régimen bielorruso de Lukashenko.
Sobre Ecuador, Inkster dijo que las FARC habían sido menos exitosas, en su intento de forjar alianzas con ese país. No obstante, afirmó que las FARC habían donado $400.000 a la campaña de Rafael Correa, de quien desconfian. No se mencionó la relación de Gustavo Larrea, ministro de Correa, con las FARC, aunque en los archivos se menciona la buena relación y disposición de Larrea.
En suma, un evento interesante. Pude constatar que los periodistas que hicieron preguntas desconocen muchos aspectos de la dupla FARC - Chavez, y alguno que otro, como la periodista del Guardian, todavía está dispuesto a repetir sin cuestionamientos la linea propagandística generada en Caracas. Fue una lastima no escuchar ninguna pregunta como: "¿qué pasaría en Europa, si se descubriese que la ETA mantiene una oficina en Paris financiada con dineros de los contribuyentes con la anuencia de Sarkozy?" La problemática colombo-venezolana sigue siendo vista con un sesgo profundamente racista, como un asunto que no afecta, sin considerar que el 80% de la droga que se produce en Colombia, Ecuador y Venezuela entra en los mercados internacionales por Venezuela.
El que quiera una copia del contenido del CD, que me la pida por email: alek.boyd arroba gmail.com
Slider Image: