Submitted by

Tomas Lander

on Mon, 23/09/2013 - 08:36
Spanish
Cuando me despierto, mi rutina ya no necesita un café con leche para motivarme. Todo lo que requiero es ver en DolarToday.com que la moneda del imperio sube, y sube todos los días, y el Bolívar se desploma. Ese susto es el equivalente a un corrientazo. Día a día veo como el salario de un venezolano vale menos, mientras que el que tiene acceso a dólares esta protegido en contra de la inflación. ¿Y cómo obtengo dólares? No puedo. Solo los que tienen permiso o palanca. Los permuteros. ¿Quién tiene los dólares? Una mafia compuesta por altos funcionarios chavistas, aliada con contratistas públicos en sectores como el energético, petrolero e infraestructura, y algunos banqueros sin escrúpulos que hacen posible este fraude y comen de él. El negocio de CADIVI.
Los integrantes de estas pandilla no son sólo chavistas. Como ya vimos en los últimas escritos, muchos de ellos son hijos de papá que habiendo tenido todo para poder progresar honradamente y ayudar a nuestro país, decidieron convertirse en criminales de cuello blanco, desangrando a Venezuela. La cuenta de correos de Infodio (leaks-Infodio@hushmail.com) está recibiendo una cascada de correos de lectores queriendo denunciar y pasarnos datos. Lo que sigue es una investigación en desarrollo (con la ayuda de una red de voluntarios que poco a poco está creciendo), usando información recibida anónimamente y verificada. Te invito a que nos pases datos, aunque creas que no importen. Eso si, preferiblemente debe ser algo demostrable, ya que este sitio web no busca caer en dimes y diretes. Aquí buscamos mostrar, confirmar, y exhibir a los peores de la 4ta y de la 5ta.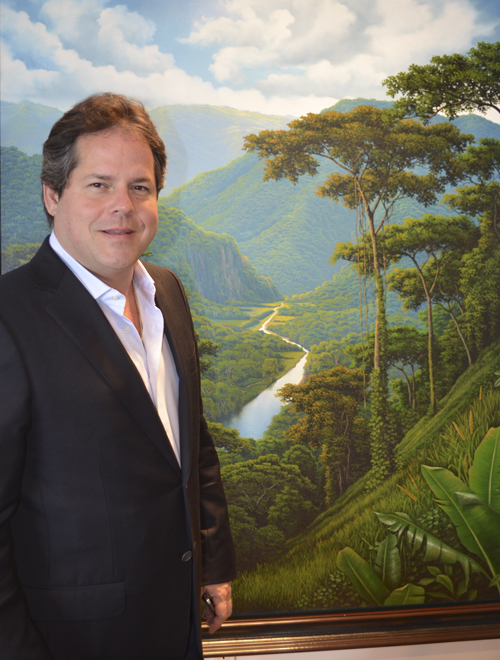 David Osío, banquero de la Cuarta Republica que paso a ser el guardián del dinero ilícito del Chavismo.
Cuando se pregunta dónde están los dólares robados del país hay que recordar que el gobierno recibe la plata del petróleo en dólares y la recibe casi toda en cuentas que tiene en el imperio. De ahí pagan a contratistas, o la pasan a "fondos" del gobierno y cuentas en el exterior como la nómina de PDVSA o las jubilaciones. Para picar del pastel, los funcionarios del gobierno necesitan cómplices en el mundo financiero. Entre los mas conocidos están David Osío Montiel, Luis Alfonso Oberto (el flaco alto), "operadores" como Danilo Díaz Granados o Moris Beracha, y muchos otros.
El financiero mas pantallero de Miami se llama David Osío, o como sus amigos le dicen, "Panda". Es dueño del grupo Davos Financial Group. En La Lagunita lo llaman "el banquero de PDVSA".
Entre sus relaciones está uno de los directores de PDVSA, Eudomario Carruyo, un revolucionario rojo rojito que tiene un hijo que tiempo atrás manejando un Lamborghini en Miami impactó contra un árbol, muriendo el co-piloto. Sres. lectores, Carruyito estaba manejando una nave que cuesta 320.000 dólares y no tiene forma de explicar de donde salio ese dinero: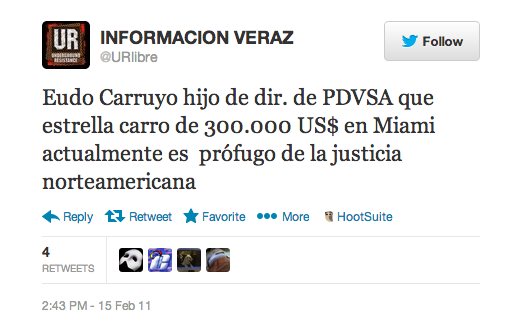 ¿De dónde creen que sacó el billete para esa compra? De los dólares de PDVSA que tenia su papa guardados en Davos. Hoy Carruyito es prófugo de la justicia americana por homicidio.
Otra relación de Osío es uno de los ex Directores de Finanzas de la petrolera, Juan Montes, (lo llaman "Black"), quién actualmente enfrenta un juicio en Estados Unidos por participar en un fraude por más de 500 millones de dólares a los jubilados de PDVSA. Relaciones como la de Montes y Carruyo han permitido que Osío se convierta en uno de los banqueros favoritos del régimen a la hora de realizar colocaciones de fondos de PDVSA en el exterior. En otras palabras, los parásitos de la estatal petrolera, como Carruyo y Montes, necesitan a un cómplice con experiencia bancaria dispuesto a hacer lo que sea y donde sea para esconder el dinero mal habido.
ROBO A LOS JUBILADOS DE PDVSA
Lo de Osío no es invento de Infodio, o un refrito de algún otro sitio web. Osío ha sido mencionado como uno de los operadores financieros que ayudaron en el fraude a los jubilados de PDSVA 500 millones de dólares en el  "caso llarramendi". En una acción legal en Estados Unidos (un litigio comercial) mencionan a Davos, con Vaduz Financial Group (dos empresas de Osío), como tuberías financieras a través de lo cuales se le pagaban millones en sobornos a Juan Montes.
La demanda (pulsen aquí para descargarla) dice que el 8 de diciembre de 2006, una de las empresa de Francisco Illarramendi transfirió a Montes, a través de Davos International Bank, la cantidad de US$ 126.000, y por medio de Vaduz Financial Corporation, US$ 2.241.548 correspondiente a "comisiones" por una operación dudosa ejecutada por Illarramendi y la otra joyita, Moris Beracha con los dineros de los Fondos de Pensiones de PDVSA administrados por Montes.
La demanda también establece que el 13 de noviembre de 2007, la misma empresa transfirió por medio de Davos International Bank a la cuenta de Montes, ex directivo de Pdvsa, unos US$ 2.500.000 como comisiones por otra transacción similar. En otras palabras, por colocar el billete de PDVSA con ellos, a Montes le daban una tajada. Beracha, Osío, y Montes como que no se esperaban que Illaramendi iba a terminar desgraciado y enjuiciado en el imperio por haber desaparecido todos esos reales. En fin, los choros le roban a los otros choros y dejan un desastre en el camino.
Estos sobornos a Montes, identificados en la acción legal, superan los 5.000.000 de dólares. A veces me gusta dar una idea fehaciente de que significa esa suma. Cinco millones de dólares es el equivalente del salario mínimo de mas de mil venezolanos trabajando un año completo. En otras palabras, la mayoría de esas personas que ves en la cola del por puesto o en el metro, escoge a cualquiera de ellos, e imagínate que tendría que trabajar 1.200 años para acumular lo que el desgraciado de Juan Montes, funcionario del gobierno revolucionario, disfruta de su "comisión", por la cual jamás trabajo un día de su vida—solo le pasó un depósito a un pana de Osío.
Hace un tiempo mi tío (el exiliado en Miami por haber estado en Miraflores el 11 de Abril—ni siquiera firmó!) nos trajo copias de un periódico Mayamero que se llama El Venezolano (un diario en Miami). Ahí fue donde vi por primera vez el nombre de Osío y su grupo de banqueros. Si bien esos reportajes misteriosamente desaparecieron de internet, después de mucho buscar logré encontrarlos. Los pongo aquí para que vean.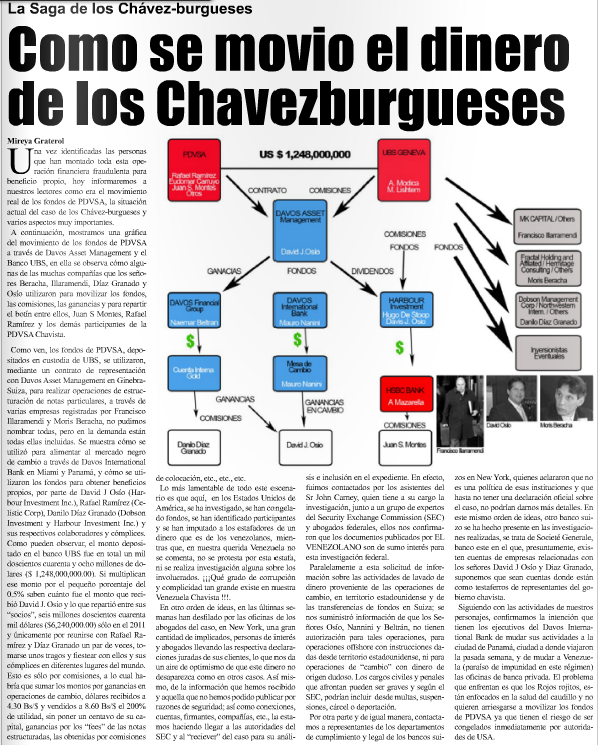 Me llamó la atención un articulo titulado "Cómo se movió el dinero de los chavezburgueses" (pag. 3) publicado el 15 de Marzo de 2012. El artículo revela que los fondos de PDVSA depositados en el banco UBS en Suiza que llegaron por Osío con un contrato de Davos Asset Management habrían sido superiores a los 1.000 millones de dólares. Cuánto de eso habrá ido a parar a cuentas de funcionarios de PDVSA como Juan Montes y Eudomario Carruyo, y quién sabe si hasta el propio Rafael Ramírez pudo haber estado involucrado? Pero lo que si está claro es que Osío se mete un "fee" por hacer la transacción. El no lleva a cabo el robo, pero ayuda a los que roban y por ello le dan una buena tajada. Si Carruyo es el asaltante, Osío es el chofer del carro de escape.
El presidente Maduro dice que quiere luchar en contra de los corruptos y las corruptas. Ha dicho una palabra acerca de Davos? Carruyo? Beracha? Silencio.
RELACIONES PUBLICAS ESTILO DAVOS
Pero El Venezolano no es el único diario que publicó notas sobre Osío y luego tuvo que desaparecerlas. El ahora desgraciado periódico venezolano 6to Poder, del seudo-periodista Leocenis García, solía publicar una columna titulada "Davos Observer", la cual era escrita por el mismo David Osío. Esta columna era reproducida en Twitter por la propia cuenta de 6to Poder. Miren este tweet de Leocenis anunciando el nuevo articulo de Osío: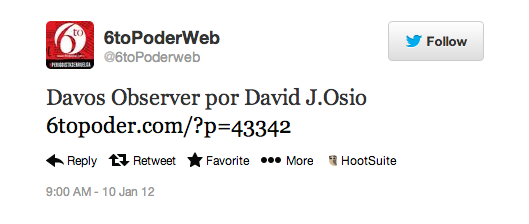 Se sabe que 6to Poder era una revista que dependiendo del mes, y de las necesidades económicas de su Director, publica a favor o en contra de ciertas personas para extorsionarlas. Leocenis es a veces un periodista, a veces un chantajista, a veces un adalid de libertad de expresión, a veces un boligarca y hoy parece ser un preso político.
En alguna de sus andanzas, se ve que Leocenis se peleo con Osío y no solo dejó de publicarle su columna, sino que decidió dañarlo y comenzar a extorsionarlo publicando artículos en los cuales desenmascaraba sus actividades corruptas.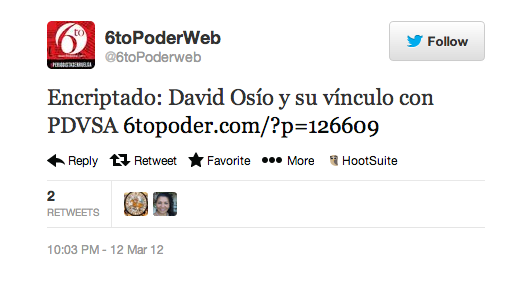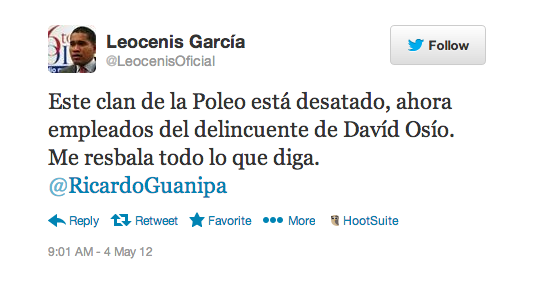 Mágicamente, todos esos artículos hoy se encuentran desaparecidos de internet. Quizás Osío y Leocenis finalmente llegaron a un acuerdo "amistoso". Lo que fascina es que en enero del 2012 Osío escribe para el periódico de Leocenis, y para marzo del mismo año Leocenis lo tiene como un astuto ladrón. Como cambian las cosas, no?
ANDRES COLES: MAYORDOMO DEL CHAVISMO EN NUEVA YORK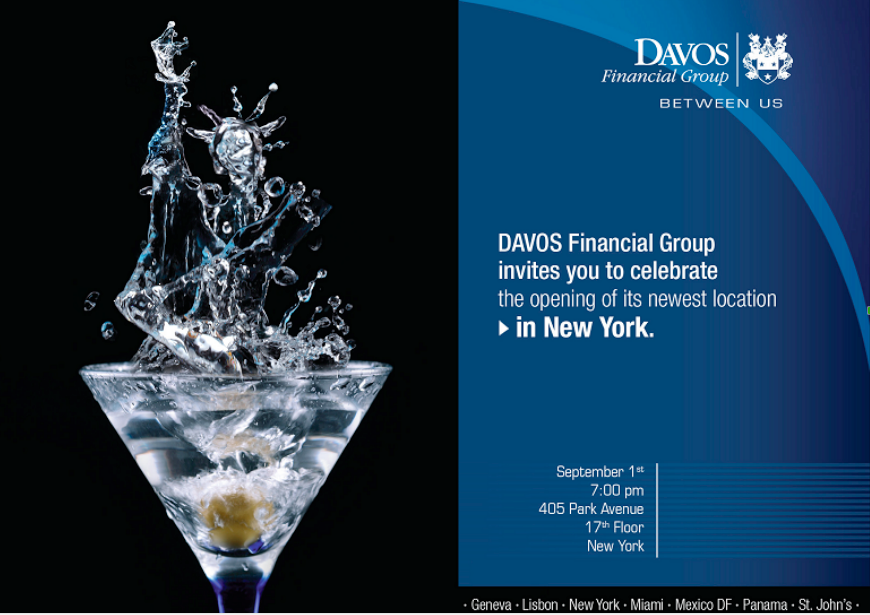 Historia aparte merece Andrés Coles, empleado de Osío, miembro de la alta sociedad venezolana que encaja perfectamente en lo que en Infodio llamamos "la sociedad de cómplices". Coles estudio en Babson University (entró con recomendación de un apóstol de CAP), y se mueve como pez en el agua en Nueva York. Coles maneja los asuntos de Davos en NY y es el asistente principal en toda transacción.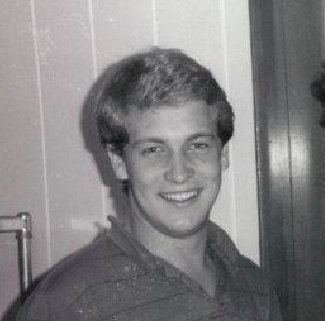 Andrés Coles, mayordomo en Nueva York del banquero de PDVSA David Osío. Foto cortesía Babson College
Coles es descendiente de una prospera familia trabajadora. Gente "bien" como se dice. Nació en el Country Club, cerquita del Centro Comercial San Ignacio, y la casa donde vivía colindaba con el campo de golf del country. Su padre fue uno de los pocos intachables ministros de la 4ta república, una persona seria con una conducta moral, y empresarial en Mavesa, de esas que hacen patria. Cuando se le pregunta a un conocido acerca de Coles, éste comenta en el locker del Country Club que "David se compró a Andrés". Lo dijo sin miedo y en presencia de Belisario. El que Andrés Coles se preste a ser el mayordomo de los chavistas en la oficina de Davos en New York es algo que ha dejado perpleja hasta su propia familia—y no sólo a la familia consanguínea sino también sus lazos matrimoniales. Es inexplicable que un individuo que creció con una jornada de pensamiento económico saliendo de CEDICE termine como una ficha clave en el desvalijamiento del país.
LA MUD EN WASHINGTON: LE PERTENECE A OSÍO
David Osío es residente americano, al menos por escrito. Sin embargo, más de uno de los que me escribe me ha dicho que existen dudas sobre su situación impositiva con el fisco del imperio. Si bien Osío dice manejar billones de dólares, los resultados financieros de sus empresas en Estados Unidos, y los impuestos que pagan, no parecen corresponder con estas cantidades. Como residente americano, Osío debería pagar impuestos por todos sus activos en cualquier parte del mundo. Para evitar eso me asegura una persona cercana a él que habría puesto a su madre, La Sra. I. Montiel, como titular de muchas de estás empresas, creyendo que así Osío burlaría al fisco gringo.
Para justificar su situación impositiva, Osío contrató al representante de la Mesa de la Unidad en Washington DC, Leopoldo Martínez Nucete. Como Alek Boyd publicó hace rato, Martinez Nucete forma parte del equipo de Osío. La historia de Leopoldo Martínez merece un capitulo aparte, y espero dedicarle tiempo en un futuro.
DAVOS Y LOS BOLICHICOS ELECTRICOS DE DERWICK
En la demanda que inició el ex Embajador Otto Reich contra los bolichicos de Derwick Associates, mencionan a Davos como uno de los bancos que manejaban la plata de los bolichicos. A este sitio web ha llegado información que David Osío era el que personalmente manejaba las cuentas de Alejandro Betancourt y los bolichicos. Osío tiene varios empleados, pero ninguno con permiso ni siquiera de conversar con Betancourt cuando venia a la oficina de Davos en Caracas.
FIEL DEVOTO A LOS MANDAMIENTOS DE UN BOLIBURGUES
El perfil de Osío se ajusta casi a la perfección a los 12 mandamientos de todo boliburgués venezolano, publicado en Infodio días atrás (para sorpresa nuestra el Embajador Cochez escribió un articulo en El País haciendo mención del escrito de los mandamientos). Veamos a Osío y que tanto se apega a la religión boliburguesa:
El mandamiento 1 reza: Si no puedes pegarla del techo honestamente, entonces págale sobornos a funcionarios del gobierno para asegurarte contrataciones públicas con sobreprecios absurdos
Esta claro que Osío a través de sus entidades ha pagado sobornos a funcionarios como Juan Montes a cambio de jugosos depósitos. Aparte de Montes los depositantes de Osío son un listado de lo peor de la boliburguesía.
Mandamiento 2: Una vez que tengas los primeros 100 "palos", llama a tus amigos de la infancia que ahora trabajan en bancos en Wall Street.
En este caso, Osío es el banquero amigo de la infancia en cuestión. Pero si de Suiza se trata, claro que él tiene sus propias relaciones con tipos como Charles Henry de Beamount de CBH Bank (el banco suizo favorito de los chavistas). Osío tambien mueve mucho dinero a Banesco en Panamá.
Mandamiento 3: Cómprate un avioncito.
Osío tiene un Cessna 560XL Citation Excel registrado en EEUU cola N507D:
Mandamiento 4: Después de construirte tu mansión en Caracas, compra propiedades de lujo en otras capitales como Miami, Nueva York, y algo Europeo.
Osío posee propiedades en Miami, New York, Ginebra, Paris, Caracas y Los Roques. Le encanta pasar los fines de semana en lugares como St. Tropez y Turks and Caicos donde recientemente compro propiedades multimillonarias.
Mandamiento 7: Empieza una ONG.
Osío ha abierto su propia fundación en la Florida llamada Davos Financial Foundation for the Development of Economies and Arts, supuestamente dedicada al arte (pero no está registrada con el fisco Americano como non-profit) y es uno de los financistas detrás de la ONG en Washington DC Centro para el Desarrollo y la Democracia en las Américas, dirigida por Leopoldo Martínez. Fíjense en el tweet que sigue, lo transparente y jalabolas que es Leopoldo Martínez. Lourdes Ubieta, periodista venezolana le manda un saludo a Osío por un reconocimiento que se compró (que termino siendo chimbo), y en seguida Martínez lo re-envia a sus seguidores: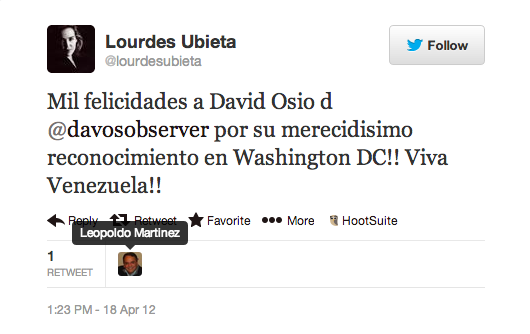 Mandamiento 9: Contrata a algunos lobistas Republicanos y Demócratas en Washington para asegurarte que las conexiones sociales del imperio las tengas súper resguardadas.
Osío tiene en nómina al bufete de abogados Tew-Cardenas, cuyo socio principal es Al Cárdenas, uno de los líderes del Partido Republicano. Estos son también los abogados de los bolichicos Derwick, de Ricardo Fernandez Barruecos y hasta de los malandros del Banco Latino. Aparte de bufetes y representantes en Washington, Osío también ha realizado aportes a las campañas de Barack Obama y de Ileana Ros-Lehtinen (Republicana de la Florida). Qué pensarán los jerarcas del chavismo sobre las contribuciones de su socio Osío...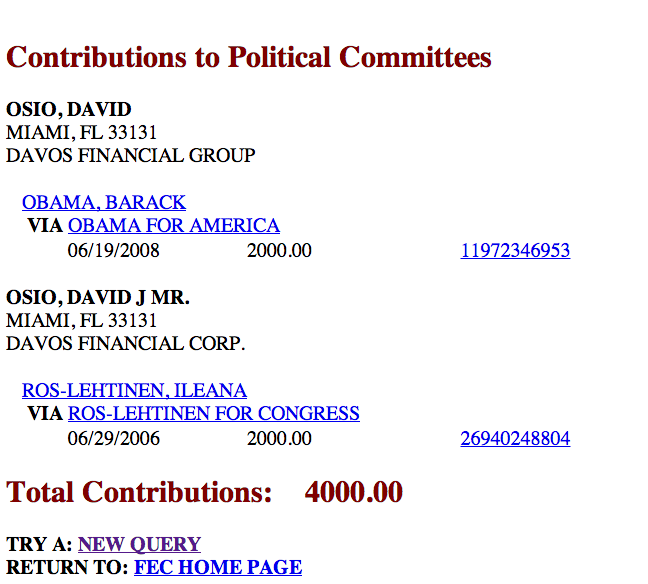 Mandamiento 10: Limpia tu reputacion y hostiga a cualquiera que pueda exponer las verdades de tu rabo de paja
Osío personalmente, y Martínez desde Washington, usan la intimidación como mecanismo para silenciar a sus críticos. Sin mencionar el nombre de una de sus victimas puedo dar fe que Osío ha enviado cartas amenazando a gente que se ha pronunciado negativamente en su contra. En un caso, la persona solo puso un tweet y en seguida Osío lo empezó a fustigar con una carta de dos paginas exigiendo se retractara.
Mandamiento 11: Págale a periodistas para que escriban cosas positivas sobre ti y tu conciencia social
Como ya demostramos, al menos dos diarios han tenido que "borrar" de sus sitios webs artículos sobre Osío. No sólo eso. Osío también se ha ocupado de publicitar por todos lados la "medalla" que se compró. Algunas páginas como Business Wire aún tienen el artículo publicado con dicha información. Otras, como Market Watch, aparentemente se dieron cuenta de la ridiculez del asunto y decidieron borrarlo. Lo que importa, es que para Osío, aunque deje de existir la medalla y borren las notas de prensa, siempre tendrá esta foto y unos tweets de RRPP para el recuerdo.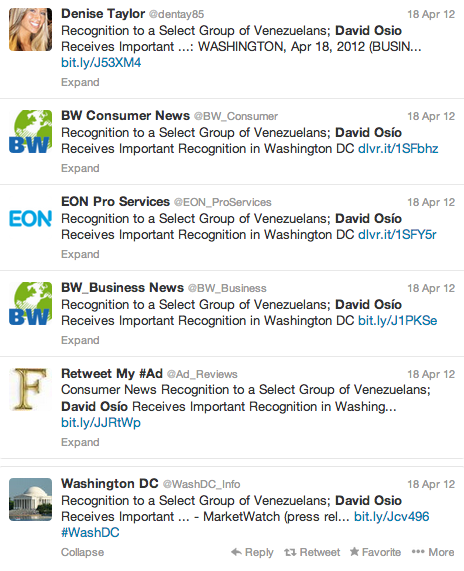 En fin, David Osío es un modelo insigne de la corrupción de la Quinta Republica. No es una persona de profundidad intelectual, ni tampoco un éxitoso profesional. David Osío es un mediocre, pantallero, que está podrido de plata únicamente por ayudar al desvalijamiento de Venezuela. El talento excepcional que tiene es el de corromper y no tener límites a la hora de cometer pecados financieros. La realidad de las marramucias que han hecho él y su jefe (detrás de Davos esta Danilo Díaz Granados) todavía no se conocen, pero si alguien les pone un parado quizás la narrativa será parte del archivo histórico de una Venezuela del futuro que tendrá que crear un museo de la corrupción para poder dejar constancia del insólito caso del gobierno más corrupto de la historia de Venezuela. Capaz y podrán confiscarle a Osío su enorme colección de Cruz Diez, comprado con el dinero saqueado de la nación.
Slider Image: