Submitted by

Tomas Lander

on Fri, 27/09/2013 - 13:52
Spanish
Tengo rato sin tocar el tema de los bolichicos eléctricos de Derwick. Las reacciones al escrito sobre la mafia Convit-Guruceaga-Lopez fueron una grata sorpresa. Mucho agradezco los correos enviados a mi persona (leaks-infodio@hushmail.com con "Tomas Lander" en el sujeto). Aseguro proteger la identidad de todo aquel que me escribe. Lamento no poder responderle a cada quien individualmente, no obstante aviso que con gusto los datos que lectores nos envíen serán meticulosa y juiciosamente investigados por el equipo de voluntarios de confianza del portal.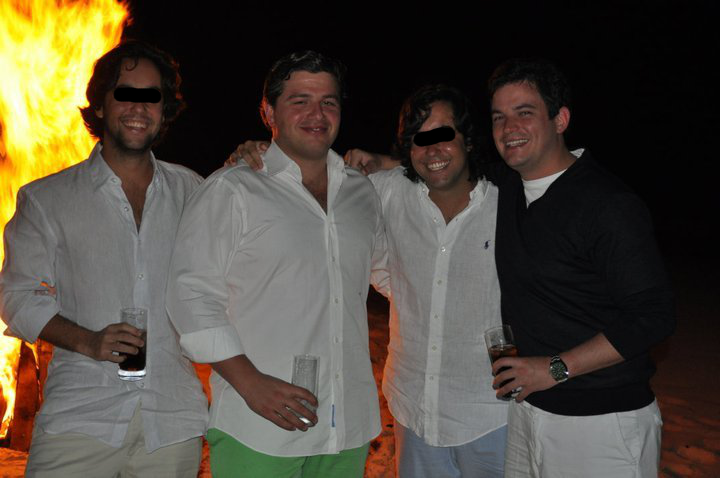 Eduardo Travieso, con el bolichico Pedro Trebbau (dcha) . Travieso fungió como testaferro, banquero, y lavó el dinero de los bolichicos.
A la redacción de Infodio poco a poco vienen llegando las pruebas de lo que hicieron con el dinero que nos robaron a los venezolanos.  Quizás los lectores se recuerdan del apartamento de los grifos de oro que era del millonario Aristotle Onnasis. El que se compró Betancourt.  Resulta que fue comprado a nombre de "BL Properties" (obviamente "Betancourt Lopez" Properties) pero al revisar la firma del documento ocurre algo insólito. El que firma la compra, el testaferro, es Eduardo Travieso. 


Declaración jurada dentro del documento de compra del apartamento de los grifos de oro, firmado por el testaferro bolichico Eduardo Travieso.
La firma lo delata y el documento dice que si acaso el firmante miente en la declaración de compra está violando la ley penal estadounidense. En Estados Unidos el banquero no puede fungir al mismo tiempo como empleado de JP Morgan y testaferro de un cliente.  Para estar seguro llame por Skype al edificio Olympic Tower, y pregunté por el "doctor Alejandro Betancourt." Respondieron que el apartamento del "doctor" es el penthouse 6 (PH-6).  No dicen que es de Travieso. Sin embargo los señalan a Travieso como el propietario de BL Properties.
A Travieso lo botaron de J.P. Morgan hace unos meses. Algo grave habrá hecho ya que la despedida la hicieron pública y el registro de corredores del gobierno de Nueva York dice que Travieso no cumplió con regulaciones vigentes. En la lengua anglosajona: "Mr. Travieso acted in a manner that is inconsistent with the firm's policies and procedures and may have violated applicable regulatory requirements, including using his residential address as the mailing address for certain customer communications. Mr. Travieso's conduct has accordingly fallen short of the standards to which the firm holds its registered representatives."
Travieso es bolichico, pero como que también es bolipendejo, ya que sus panas lo han metido en aprietos legales. Nueva York no es Naguanagua.
El grupo original de la mafia bolichica incluye al máximo líder: Alejandro Betancourt López, a su hermano Domingo Guzmán López, a sus primo Pedro Trebbau Lopez, al enchufado que le consiguió el primer contrato (hijo del Director de CORPOELEC) Javier Andrés Alvarado Pardi, al banquero que les lavo el dinero mal habido: Eduardo Travieso, y hasta Edgar Romero Lazo (hijo del Fedecamarista opositor Edgar Romero Navas que ayudo a los bolichicos a establecer su primera oficina).  
¿Que tienen estos defraudadores en común?
Todos estudiaron en el Instituto Cumbres.  Un colegio para la élite de gente rica que queda en el Este de la ciudad. Todo el que aceptan tiene que tener plata, poder, o ser bien parecido. Los curas del Cumbres llegaron a Caracas en los años 80, y pasaron por cada mansión del Este buscando apoyo y una plataforma para "formar" a la futura élite de Venezuela, la cual gozaba en las patinadas en casa de los Álvarez Stelling del Banco Consolidado, y en los campamentos de verano en la hacienda de los del Banco Mercantil. El Padre Bernard se sacó la lotería cuando otra familia banquera de la Cuarta le dio el dinero para comenzar el colegio. Mis padres no estaban muy convencidos de la pureza de este órgano católico, por ello me quede en otro colegio, aunque los padres Ramiro y Jaime eran gente de lo mejor.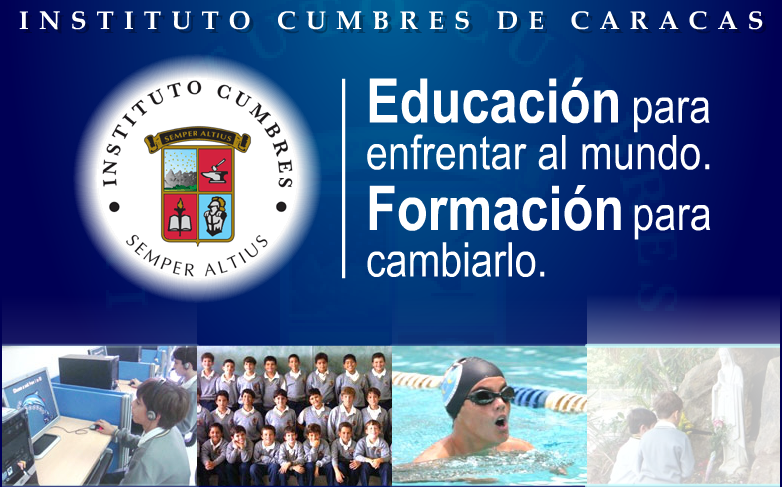 Los curas del Cumbres ya tienen 20 años en Venezuela, y aun con todo lo bienintencionados que deben ser, tienen mucho que explicarle a la sociedad venezolana sobre cómo un grupo tan extenso de ex-alumnos consiguieron graduarse sin ningún tipo de compás moral, y sin poseer un marco ético para luego pasar a formar una organización dedicada al crimen de cuello blanco. A un familiar mío le pareció que algo raro pasaba en el Cumbres, cuando en 1992 invitaron a Gustavo Gómez López (organizador del saqueo del Banco Latino) a darle una charla a los alumnos. Quizás el peor modelo para un país destruído por la falta de moral e integridad.
Veamos lo que producen Cumbristas que se asocian con Derwick: a partir del 2009 y en el espacio de 14 meses, a este grupito de chamos con cero experiencia previa en el sector energético (cero, Sres. cero, no tenían ni la mas minima idea de cómo funciona una turbina o una planta) se les concedió 12 contratos públicos para la construcción de plantas de energía en Venezuela. ¿Cuál fue la primera compra? CORPOELEC, y es allí donde comienza esta descarga de billetes. Que casualidad que el hijo del Director de CORPOELEC que aprobó la adquisición estaba en el mismo salón de clase que Pedro Trebbau López.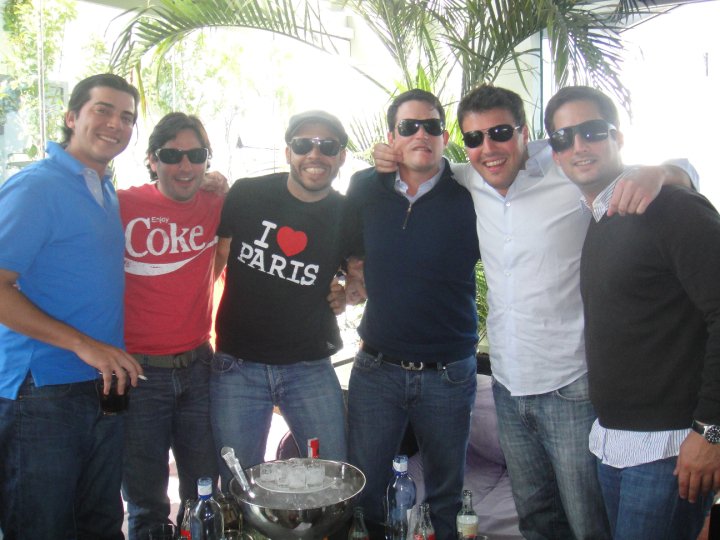 Javier Alvarado Pardi (primero de izq. a dcha.), hijo del chivo que le otorgó los primeros contratos a Derwick. El del suéter azul con la cara de bravo es el bolichico Pedro Trebbau.
Mírenlos en esta foto aquí, parrandeando por Europa a solo cuatro meses de la llamada "Emergencia Eléctrica." Imagínense, Trebbau y sus socios deberían haber estado construyendo las plantas eléctricas para solucionar el rollo de la electricidad (¿como que no terminó bien la cosa, no?) y en vez andan de farra con chamos del Cumbres gastando la plata de todos los venezolanos.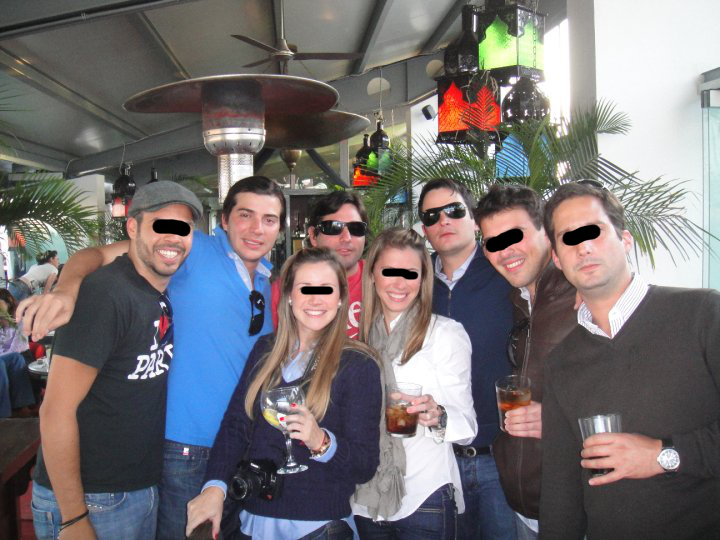 Bolichicos y el hijo del Director de CORPOELEC de fiesta durante la emergencia eléctrica. En Madrid como que había mucha luz y chicas lindas.
Pero no hay que ser mal pensado. ¿Qué tiene de malo tener un amigo que es hijo del chivo que te da un contrato?
Uno puede quedarse con la duda, hasta que uno se entera a través de un reportaje de Cesar Batíz en el Ultimas Noticias que este tipo de la camisita azul de mangas cortas, decidió que quería un Porsche clásico.  Y el modelo que el quería estaba en La Romana, Republica Dominicana.  ¿Qué hace? Lo compra y lo importa.  ¿Y con qué plata? El tipo no tiene oficio, y obviamente su papá al frente de CORPOELEC tendrá un sueldo reducido, siendo un funcionario de la revolución, no?  Resulta que la dirección que pone el bolichico Alvarado en el flete del carro es la dirección del otro bolichico Alejandro Betancourt—la oficina de Edgar Romero Navas el ex de Fedecamaras. Ya empezamos a ver cómo esta mafia de graduados del Instituto Cumbres funciona.  
Ellos han creado entre si una sociedad de cómplices. Ya que todas las amistades de los bolichicos son compradas, y que ellos tienen una necesidad casi enfermiza por la aceptación social, metieron a más de una docena de sus compañeritos del colegio Cumbres en los negocios turbios de Derwick. Más de uno les dijo que no, pero al fin terminaron como una pandilla de mediocres sin valores.
Hasta el día de hoy la cantidad total de dinero público que CORPOELEC y los otros entes de gobierno le dieron a los bolichicos a través de Derwick Associates es desconocida: ninguno de los contratos se obtuvo a través de un proceso de licitación abierta. Se estima que fueron casi 5.000 millones de dólares. Se trata de dinero público Sres. Derwick Associates se asociaba con proveedores y contratistas estadounidenses, como ProEnergy para llevar a cabo la obra, y Derwick se embolsillaba la diferencia. Según expertos ese monto que se llevaron llega a casi 3.000 millones de dólares.  Para tener una idea de lo que esto es, ¿cuánto fue a buscar Maduro en China?  5.000 millones.
¿Y qué hacían con el dinero?  Se lo mandaban a un compañero de clase: Eduardo Tobías Travieso.  Hijo de un abogado con reputación de persona seria, el banquerito de JP Morgan recibía el dinero y lo esparcía a través de varias cuentas. 
De JP Morgan los reales llegaban a asociados como Luis Oberto y Francisco D'Agostino que no asistieron al Cumbres, porque el colegio no había sido fundado. Y ni de hablar de otros hampones metidos hasta la coronilla en los negocios cambiarios y notas estructuradas con Derwick: Danilo Díaz Granados y el bolibanquero del escrito de la semana pasada: David Osio.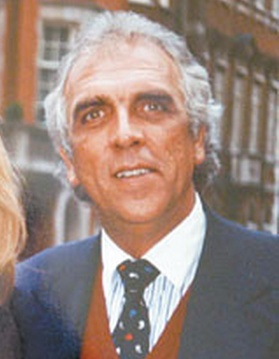 Domingo Guzmán de Frutos (dcha.), padre de varios bolichicos, ahora es anfitrión de reuniones en el Country Club para defender a los delincuentes. Perfecta ilustración de la sociedad de cómplices que ha destruido a Venezuela.
A medida que los bolichicos se han convertido en la ilustración mas publica de la corrupción en Venezuela (grifos de oro, bodas en Venecia, jet de $26M, coto de caza en España) no aguantan lo que aparece en Infodio y mucho menos cuando las personas cuelgan mis escritos en Facebook o Twitter o DolarToday. Lo insólito es que aun con todo ese dinero, con las casas, los escoltas y seguridad que les brinda Franklin Chaparro de SERSECO, aún con toda la palanca en el gobierno, y en el edificio propio (con terracita de recreo y todo) los bolichicos necesitaban y necesitan aceptación. Es lo que más les importa.
La semana pasada, en la residencia "La Granja" de los Arismendi, cerca de las caballerizas del Country Club, el padre de varios bolichicos, Domingo Guzmán de Frutos, invitó a mis padres (y a muchos otros) a una reunión de sociedad, donde se iba a dar una explicación a los sifrinos de nuestra urbanización que los bolichicos no son lacras ni ladrones. Ni me quiero imaginar que horrores hablaron de mi, y de mis escritos en Infodio.com. En vez de enderezar a sus hijos y comportarse como un líder, Guzmán les da albergue y sirve de defensor. Sres. el rechazar comportamiento inadecuado no es falta de cariño, es lo que los curas del Cumbres llaman amor verdadero al prójimo. ¿Qué le pasa a esta gente? ¿De dónde sale esta fauna tan desposeída de valores? ¿Qué habrá pasado en el Cumbres?
Slider Image: