Submitted by

Tomas Lander

on Thu, 27/03/2014 - 09:07
Spanish
Se vuelve a alborotar el tema legal de la Bolichiquería con un protagonista nuevo y una querella nueva. Thor Halvorssen Mendoza (de los Mendoza de Eugenio no de los de Lorenzo), director de la Foundation de Human Rights se suma a la batalla en contra de los Bolichicos. Ha entablado una demanda por difamación en una corte estatal de Miami. Dejemos los temas secundarios y pasemos al lomito del asunto.
Halvorssen y sus abogados dicen tener evidencia que Diosdado Cabello Rondón y los Bolichicos están tan encompinchados que los "defendants" de Derwick Associates le pasaron $50.000.000 a una cuenta de Cabello en un banco de Juan Carlos Escotet en Panamá. El párrafo 10 y 68 repiten lo mismo:
68. The fact of Defendants' illicit activities has been personally confirmed by one or more former Derwick employees. One or more former employees have confirmed that Derwick offered kickbacks numbering in at least the tens of millions of dollars to one or more Venezuelan officials, including a $50,000,000.00 payment to Diosdado Cabello-Rondon, President of the National Assembly of Venezuela, the country's parliament, in exchange for public contracts that officials knew allowed for overbilling by Defendants. On information and belief payment was made to an offshore corporation registered in Panama with accounts at Banesco Bank in Panama. On information and belief, such a substantial kickback was provided to the officials so that Venezuelan authorities would ignore overbilling by Defendants.

Diosdado Cabello: acusado de recibir una "mordida" de $50M en un banco en Panamá.
Si esto es cierto explicaría cómo pudieron los Bolichicos clavarle un sobreprecio no sólo a la PDVSA doja, dojita, sino también a Corpoelec, Bariven, CVG, y EDC. Y explica cómo tienen los Bolichicos la habilidad de soltar sus furias mandándo el SEBIN a la casa de Carlos Julio Romero, amenazar y amedrentar a Toto Aguerrevere y a Raul Stolk. El SEBIN, como saben bien los lectores de esta tribuna, es arma de Diosdado Cabello. También explica cómo es que los Bolichicos han podido comprarse el apartamento de Onassis, aviones, helicópteros, el fundo El Alamín en las afueras de Toledo, apartamentos en Madrid, en Boca Raton en el Jade Ocean, en los Alpes Suizos, y mucho más, sin tener ningún tipo de vergüenza, o temor de que en Venezuela les abran una investigación, así lo pida Freddy Bernal en vivo por la televisión. Diosdado es el socio empresarial más codiciado en Venezuela, brinda seguridad, tranquilidad, y hasta una policía secreta.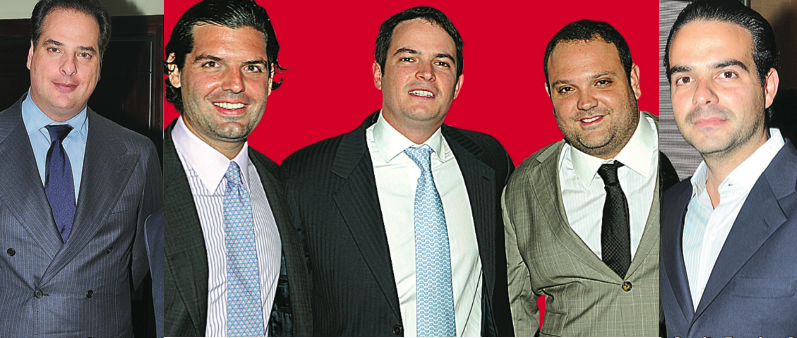 Team Derwick (izq. a dcha.): Francisco D'Agostino, Alejandro Betancourt, Pedro Trebbau, Edgard Romero Lazo, y Francisco Convit.
La demanda de Halvorssen tiene los mismos acusados que el caso de Otto Reich: Francisco D'Agostino Casado, Pedro Trebbau Lopez, y Alejandro  Betancourt Lopez. Lo curioso es que ni Reich ni Halvorssen han demandado a Francisco Convit Guruceaga. Convit es primo de Trebbau y Betancourt, y fue el eje central de la corrupción Derwick. Recientemente Convit se compró una mansión en Miami, en 985 Harbor View North en la zona Hollywood. Primero puso la casa a nombre de Patricia Ferrando y le regalo a sus suegros una casa en la misma calle. Después puso la casa a nombre de un holding company 985HVN LLC. Convit es el loquito que anda armado hasta los dientes, con dos pistolas nueve milímetros, y es el que formó las alianzas entre Derwick y el gobierno, a través de los hermanos Uzcátegui. El mismo Franklin Chaparro, jefe de la empresa que le brinda seguridad a Derwick, le tiene pánico a Convit por lo malandro que es. Fue Convit el que se hizo alto pana de Huguito Chavez, y el que terminó presentándole a sus compinches de Derwick a Diosdado Cabello. Al mismo tiempo que Betancourt se conectó con Diosdado, el hermanito menor de Betancourt (el Guzmán de Frutos) terminó con un problema de estupefacientes, en el cual Huguito era su homólogo. Mientras unos se metían sustancias otros se metían petrodólares, y Francisco D'Agostino con Luis Oberto (metiéndose champagne) se ocupaban del tema de CADIVI y el platal que lograrían cambiando mil millones a dólares preferenciales. Fue D'Agostino el que armó la estrategia para que él y Betancourt se compraran Intercable. 
El hecho que ni Reich ni Halvorssen tengan a Convit en la mira deja muchos interrogantes. Por qué a D'Agostino pero no a Convit? Las declaraciones de Halvorssen y la demanda (versión completa pulse aquí) arroja algo que no concuerda con documentos públicos. La demanda declara que D'Agostino admitió que él es uno de los dueños de Derwick Associates. Sin embargo, Convit es director de Derwick, mientras el "partner" D'Agostino no aparece en documento alguno de la empresa. Qué saben Reich y Halvorssen de D'Agostino?  Y por qué los mismos acusados? Aún no demandando a Convit en persona, la demanda incluye a "Derwick Associates", por lo tanto a Edgard Romero Lazo y a Convit los incluyen indirectamente, así como a todos los directivos de Derwick en el exterior. Con tiempo espero armar este rompecabezas de la corrupción. 
Estos bolsifrinos Bolichicos (los BBs—porque maduros no son) se las dan de guapos, se creen protegidos, amos del valle bolivariano. Cuando caiga Diosdado, que harán? La lista de gente a quienes los Bolichicos han destruído (o intentado destruir) crece de mes a mes, por sus imberbes reacciones y sus amenazas. Si querían pasar agachados lo que han hecho los Bolichicos es crearse un ejército de enemigos, que van desde uno de los pocos banqueros honestos (y su enorme familia de accionistas), el accionista más importante de Maizena Americana (y su familia), el director de una ONG internacional que se codea con premios nobel, a un centenar de contemporáneos nuestros del San Ignacio, el Cumbres, y el Santiago de León (por que no les brindamos respeto), y no nos olvidemos de blogueros, periodistas y medios de comunicación. El día "D" de los Bolichicos será un día bien feo para la mafia Convit-Lopez-Guruceaga-D'Agostino y sus amiguitos en el gobierno y en el SEBIN. Demasiada gente les tiene el ojo puesto y los esperan en la bajadita.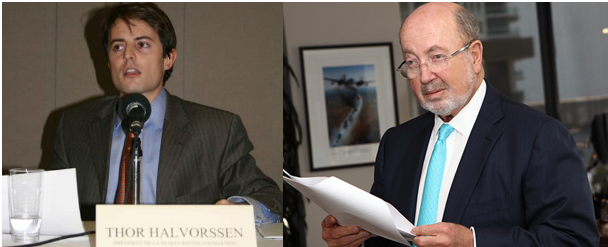 Team Halvorssen: Thor de la HRF y su abogado Andy Hall, quien demandó a Fidel Castro y le ganó.
Otra curiosidad. La demanda de Halverssen es por la suma de $15,000 según dice el párrafo 22. El abogado es Andrew Hall, abogado litigante que ganó un caso al régimen de Fidel Castro, por 2.800 millones de dólares por la muerte de un perseguido político. Por qué Halverssen demanda por solo $15.000? Dice la demanda que fue porque le cortaron el cambur que tenía en la revista Forbes, donde escribía hasta que los Bolichicos le enviaron una carta a Forbes, diciendo que Halvorssen estaba listo a difamar a Derwick acusándolos de "sobreprecio" y de "corrupción", y que todo esto era una gran mentira. A Halvorssen lo despiden de Forbes en base a la acusación de que es un mentiroso. Meses más tarde sale Hilary Kramer (ex-empleada de Gustavo Cisneros Rendiles—el héroe de todo boligarca, oligarca, y bolichico) en Forbes a hablar bien de Derwick. El artículo causa tal furia que empieza con Caracas Cronichles y termina con un ex-corresponsal de Bloomberg, hasta que Forbes manda a quitar el articulo de Kramer. Y ahora Forbes y Derwick están en la mira del martillo de Thor por difamación. El culebrón está complicado. 
Es de esperarse que un abogado como Andrew Hall no le está saliendo gratis a un empleado de una ONG, y los Mendoza (de Eugenio), que yo sepa, no tienen medios de fortuna desde hace rato. Quién estará pagando los honorarios legales?
Slider Image: