Submitted by

Tomas Lander

on Tue, 27/05/2014 - 14:54
Spanish
La curiosa historia de la lista de 'Enchufados,' un refrito de un blog estudiantil del 2004 con 13 nombres adicionales. La reciente "Lista de los 60 Enchufados" que publicó Infobae.com el 21 de Mayo ha sido un gran éxito. Genial idea. Especialmente cuando se preparan las sanciones en EEUU, y el Senador Marco Rubio presiona para quitar visas e implementar sanciones.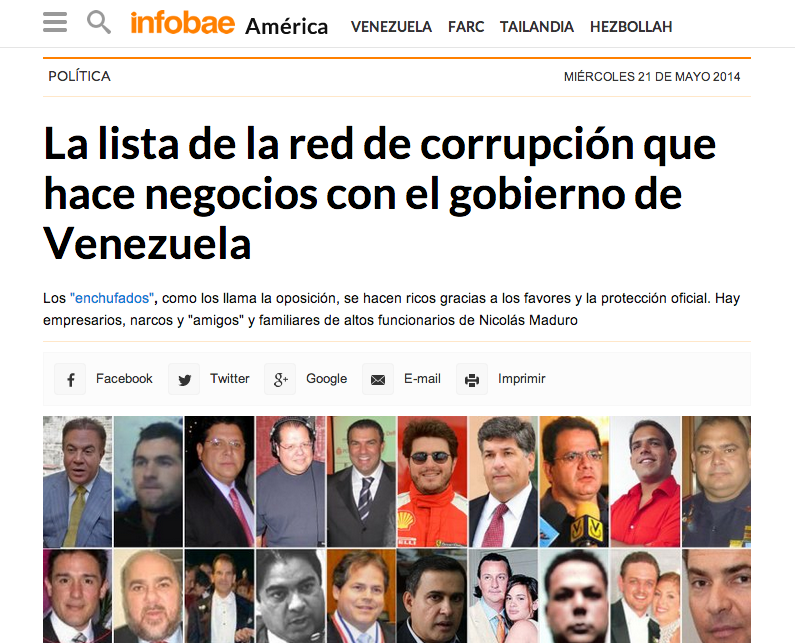 La lista contiene muchos pecadores de la ultima década y media. Tiene fotos y es una larga lista. Las listas son cosas favoritas de portales de internet. Listas de animales exóticos, listas de los mejores hoteles, listas de los videos mas cómicos, listas de las mejores papas fritas. En el portal Buzzfeed hay hasta una sección para todo tipo de listas: http://www.buzzfeed.com/tag/lists. Entonces, por qué no sacar la lista definitiva de los boliburgueses y ladrones del régimen? Buena idea.

En lo que sale la "lista de Infobae", rueda y sale en Entorno Inteligente, en DolarToday, y se riega por Twitter y Facebook, con decenas de miles de clicks. Infobae, en manos de Daniel Haddad, Laureano Izquierdo, Federico Rivas, Juan Agustin Robledo y sus colegas, han recibido varias comunicaciones enviadas por terceros reclamándole el haber escrito y publicado esa lista. Pero la lista no la escribió Infobae, la lista tiene tiempo. Es un trabajo hecho hace muchos años por un estudiante de Contaduría Pública de la Universidad Santa María, que se llama Rafael Alfredo Morales. Lo hizo en su blog. Sin ninguna investigación y en base a lo que leía por internet. Un joven escribiendo en su blog personal. Y listo. Pero la lista del joven se llama "Los 40 personajes más ricos y con mayor influencia del régimen." Y el total son 47 personas.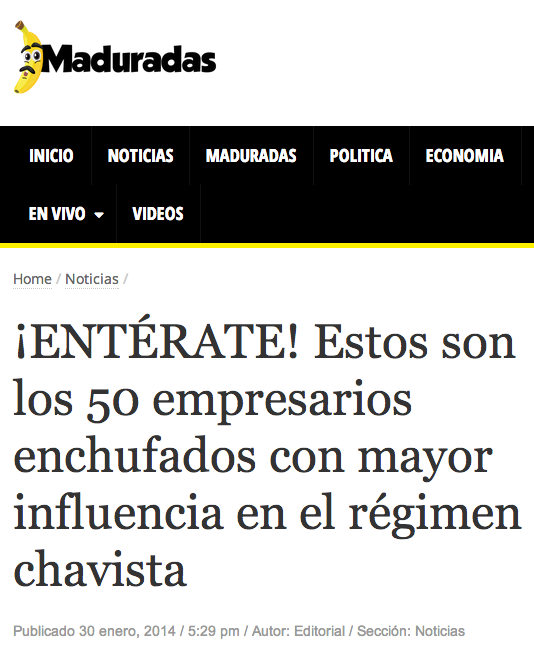 Entra en escena el portal "Maduradas" en enero del 2014, y publica "Los 50 empresarios enchufados con mayor influencia en el régimen chavista." De 40 pasamos a 50, pero sólo en el título. Siguen siendo 47 personas. Por lo menos la gente en Maduradas tiene la gentileza de citar, al final del trabajo "Con información del blog de Rafael Alfredo Morales." Lo que han debido decir es "Toda la información, excepto el título, es un refrito, sin ningún tipo de originalidad o verificación, del blog de un estudiante en la Universidad Santa María."
Entra en escena un grupito de personas que le tienen horror a infodio.com. Los bolichicos. En otras palabras: Team Derwick. Uno de los miembros de Team Derwick es Rafael "RaFa" Nuñez, el supuesto "hacker ético" de Clean Perception, la firma de "manejo de reputación" predilecta de la boliburguesía. A RaFa se le ocurre amedrentar, hostigar, e irritar a Alek Boyd, el editor de este portal. Y de ñapa, RaFa quiere enlodar a otros que o se han metido con él, o con Derwick Associates.
RaFa toma la lista original de 47 nombres y le agrega más, hasta llegar a 60 personas. Y lo publica en un blog particular que usa para pasar facturas. A quién agrega RaFa a la lista del estudiante? A Alek Boyd. Alek es el numero 48. Primer Strike, Sres.
Para subrayar el hecho de que son personas que no tienen ningún tipo de escrúpulos, incluyen a la madre de Alek Boyd, como la numero 51: "Maria Aranzazu Arregui" y escriben: "Esta es la encargada de las mulas del tráfico de droga de Venezuela hacia los EEUU y Europa, tiene aproximadamente mas de 50 operando. Es la madre del narcotraficante Aleksander Boyd Arregui." Meterse con la mama de uno, en Venezuela, es un tema prohibido, es una línea bastante seria de cruzar. Mas aun si esa persona nada tiene que ver con el asunto. Y en especial si la pobre Sra. de narco no tiene nada.
Pero lo que si es curioso es que ésta Sra., a quien Team Derwick quiere exponer como enchufada del régimen del cual ellos tanto se han aprovechado para lo de las plantas eléctricas, esa Sra., mamá de Alek Boyd, la que ponen en la lista, la misma lista que luego publico Infobae, esa Sra. murió en 1983.
Así de brutos, de inmaduros, de loquitos son los miembros del Team Derwick, que ponen a una persona que falleció hace más de 30 años en su lista. Para irritar. Segundo Strike, Sres.
Pero por qué sólo meter al susodicho y a su mamá? Por qué dejarlo de ese tamaño? Metieron también a la hermana de Boyd, como supuesta amante de Hugo Chavez.
La irresponsabilidad y la flojera de los portales de "oposición" son tal, que Maduradas publica la lista aquí en enero, y meses más tarde vuelve a publicar la versión de Team Derwick otra vez, titulada ahora "La Gran Estafa: Conoce la lista de los 60 empresarios con mayor fortuna a punta del Socialismo" y como "fuente" la gente de Maduradas pone: "Fuente criminalesaldescubierto.com".
Y la gente de Infobae, la gloria y orgullo del periodismo Argentino, publica ésta misma lista que sale en Maduradas un mes más tarde. La gente de Infobae no pone autoría. En otras palabras, lo presentan como producto interno. Acaso ponen en su lista: "Fuente: Maduradas de Abril, que la sacó de CriminalesAlDescubierto de Febrero, que la sacó de Maduradas en enero y le agregó 13 nombres, que la sacó del blog de un estudiante que escribió la lista original en el 2004?"

El problemita de aquellos que mandaron a agregarle 13 personas a la lista, es que creen que metiendo a Alek en el mismo pote de los criminales que Alek mismo expone en infodio (porque de esa lista más de la mitad ha aparecido por aquí, o por Vcrisis.com, o por el blog personal de Boyd) lo van a molestar, o amedrentar, o cohibir. No, Sres., como dice Freddy, uno de los personajes de House of Cards: "They done stepped on the wrong motherfuckin' rattlesnake."
Si va a haber una lista veraz, con información útil, y repleta de información, es necesario incluir a Francisco D'Agostino, Francisco Convit, Alejandro Betancourt Lopez, Edgard Romero Lazo, y Pedro Trebbau Lopez. Todos ellos están acusados en este momento, en dos cortes distintas en EEUU, por pago de soborno y por sobreprecio en los contratos eléctricos a través de la empresa Derwick Associates, y están siendo demandados por Otto Reich y por Thor Halvorssen Mendoza.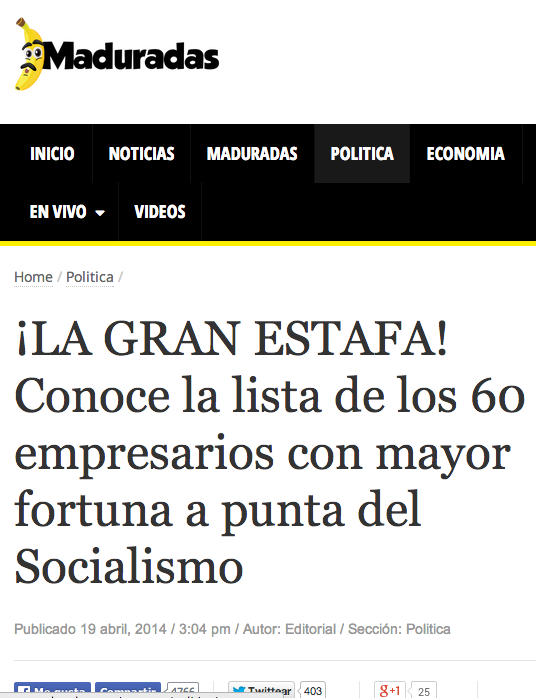 Será por eso que al que agrega Team Derwick a la lista después de Boyd es "Thor Halvorssen"? Y lo ponen como un corrupto que "cuando el gobierno de Carlos Andrés Pérez se robó grandes cantidades de dinero con la fibra óptica que nunca instaló." Halvorssen fue presidente de la CANTV en 1978. Lamentablemente, para los graciosos de Team Derwick, como que no se han enterado que la fibra óptica no existía en aplicación telefónica durante el primer gobierno de CAP, y no llegó a Venezuela sino mucho después. Tercer Strike.
Para gran bochorno de Infobae, Maduradas, Entorno Inteligente, y DolarToday, todos han sido la burla del periodismo serio en este caso. El que quiera saber de la corrupción en Venezuela que lea infodio.com, el único sitio bloqueado en Venezuela por la efectividad de sus escritos y la evidencia que la acompaña.
Y a la gente de Infobae les participo: cuando quedan en ridículo de esta forma, usualmente un periódico serio primero se disculpa, luego repara la situación, y por último toma nota de quién fue el que develó este fraude. Se llama Tomás Lander, vive en Caracas, escribe en infodio.com y no le tiene miedo a pasar 10 minutos con el buscador Google haciendo el trabajo de investigación que han debido de hacer Uds. en primer lugar. Que vergüenza dan. La facultad de periodismo de la Universidad de la Plata no les queda muy lejos. Pasen por ahí para repasar un poco el tema de profesionalismo.
Slider Image: