Evidence has emerged that Derwick Associates paid bribes to Nervis Villalobos through Banca Privada D'Andorra. A "Consulting and Advisory Services Agreement" between Derwick Associates Corp. and INGESPRE (Nervis Villalobos' vehicle) was entered by the parties on 14 January 2010. The contract's recitals imply that Derwick Associates is a foreign concern "which does have an office in Venezuela and wishes to do further business there". It further states that Derwick Associates "desires to obtain the Services of the consultant and the consultant is willing to provide the services to the company on an exclusive basis".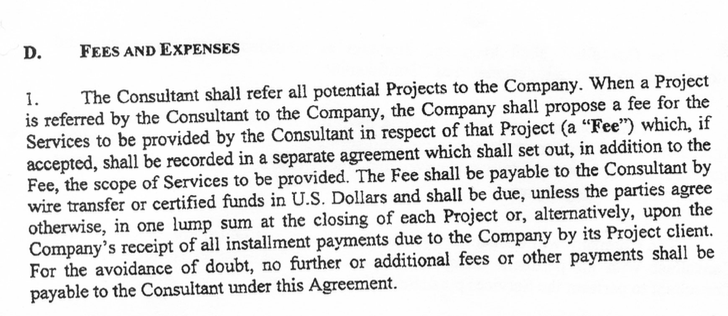 Use of U.S. Dollars to pay fees (bribes) subjects both parties to the U.S. Foreign Practices Corrupt Act.
Given that parties also agreed to be bound by "laws of England and Wales" subjects them to the UK's Bribery Act.
Elsewhere, INGESPRE agrees to provide "a minimum of one (1) project every 6 months", while explicitly waiving rights guaranteed by the UK's Contracts (Rights of Third Parties) Act 1999: under Miscellaneous (J-7) "The terms of this agreement may be enforced only by a party to it and the operation of the Contracts (Rights of Third Parties) Act 1999 is excluded."
The "consulting agreement" came to be in the possession of Banca Privada D'Andorra as justification for payments provided by the parties.
INGESPRE (Villalobos' shell company for all intents and purposes) was instrumental in securing procurement contracts for Derwick Associates. But its remit did not end there. An employee of Villalobos, Luis Alejandro Rivero Garcia, introduced the majority of Venezuelan clients to Banca Privada D'Andorra. The Andorran money laundering concern would, in turn, provide all manner of offshore services, through BPA Serveis subsidiary, to its Venezuelan clients. Higini Cierco Noguer shared executive positions in board of Banca Privada D'Andorra with brother Ramon Cierco Noguer, and chaired also BPA Serveis, the Mossack-Fonseca-like provider of offshore services.
One such client introduced by Villalobos' agent is the current Venezuelan Ambassador to the UK, Rocio Maneiro. Maneiro instructed Banca Privada D'Andorra to open two bank accounts: one for a vehicle called Valdon and the other for another shell called Africa Master. Accounts controlled by Maneiro received payments from a shell called High Advisory, controlled in turn by Diego Salazar Carreño, another Banca Privada D'Andorra client and first cousin of Rafael Ramirez, former Petroleos de Venezuela CEO and Venezuela's Minister of Energy.
Requests for comment have been put to Derwick Associates, Ambassador Rocio Maneiro, Ramon Cierco Noguer and others. No reply has been received.
To be continued...