US embassy cable - 10CARACAS233
VENEZUELA: PDVSA Director for Strategic Planning Alleges it is Open for Dialogue with U.S.

VZCZCXRO4257
RR RUEHAO
DE RUEHCV #0233/01 0571331
ZNY CCCCC ZZH
R 261331Z FEB 10 ZFF3
FM AMEMBASSY CARACAS
TO RUEHC/SECSTATE WASHDC 0527
INFO OPEC COLLECTIVE
WESTERN HEMISPHERIC AFFAIRS DIPL POSTS
RHEBAAA/DEPT OF ENERGY WASHINGTON DC
RHEHAAA/NATIONAL SECURITY COUNCIL WASHINGTON DC
RHEHNSC/WHITE HOUSE NATIONAL SECURITY COUNCIL WASHINGTON DC
RHMFISS/HQ USSOUTHCOM MIAMI FL
RUCPDOC/DEPT OF COMMERCE WASHINGTON DC
RUEATRS/DEPT OF TREASURY WASHINGTON DC

C O N F I D E N T I A L SECTION 01 OF 02 CARACAS 000233 
 
SIPDIS 
ENERGY FOR ALOCKWOOD AND LEINSTEIN, DOE/EIA FOR MCLINE 
HQ SOUTHCOM ALSO FOR POLAD 
TREASURY FOR MKACZMAREK 
COMMERCE FOR 4332/MAC/WH/JLAO 
NSC FOR DRESTREPO, RCRANDALL AND LROSSELLO 
OPIC FOR BSIMONEN-MORENO 
AMEMBASSY BRASILIA PASS TO AMCONSUL RECIFE 
AMEMBASSY OTTAWA PASS TO AMCONSUL QUEBEC 
AMEMBASSY BRIDGETOWN PASS TO AMEMBASSY GRENADA 
 
E.O. 12958: DECL: 2020/02/26 
TAGS: EPET, EINV, ENRG, ECON, VE 
SUBJECT: VENEZUELA: PDVSA Director for Strategic Planning Alleges it 
is Open for Dialogue with U.S. 
 
REF: 10 CARACAS 155; 09 CARACAS 1593; 09 STATE 99343 
 
CLASSIFIED BY: Darnall Steuart, Economic Counselor, DOS, Econ; 
REASON: 1.4(B), (D)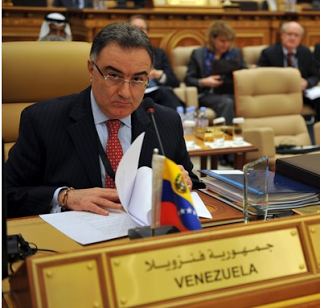 1. (C) SUMMARY: Fadi Kabboul, a member of PDVSA\'s
board of directors, asserted PDVSA\'s openness to
dialogue with the USG, and expressed interest in the
US Geological Survey\'s survey on recoverable oil
in the Orinoco Belt that effectively doubled Venezuela\'s estimated reserves, and the on-going debate regarding Venezuela\'s production numbers. He noted current Chinese difficulties in operating in Venezuela. He also shared that the Washington-based Venezuelan Energy Counselor had returned recently to Caracas to direct the planning staff of the newly formed Electricity Ministry. END SUMMARY.
2. (C) PETROLEUM RELATIONS: Petroleum AttachC) (PetAtt) spoke with
Fadi Kabboul (Director of PDVSA) on February 18 when he was
identified on the visa line by an alert Consular Officer. [NOTE:
This message should be read in the context of Refs A and B that
provide a counterbalance to Kabboul\'s forward leaning assessment of
the U.S. relationship and on Venezuela\'s production figures. END
NOTE] Kabboul shared that his brother George Kabboul, President of
PDVSA subsidiary PDV Marina, had been concerned following his
recent invitation to PetAtt to visit his office (Ref A) and had
contacted his brother to inquire whether he might be \"in trouble.\"
Fadi Kabboul told PetAtt that his door is \"always open,\" that he
\"manages the U.S. petroleum relationship,\" and that \"we should get
together.\" Kabboul then asked whether PetAtt remembered PDVSA
Executive Vice President Eulogio del Pino\'s verbal invitation to
PetAtt offered on the margins of the World Heavy Oil Congress in
November 2009 to call his office and arrange for a meeting. [NOTE:
Fadi Kabboul offered a revisionist view of history. He has never
offered a meeting or claimed to be \"in charge\" of the U.S.
petroleum relationship. Nor did del Pino offer PetAtt a meeting.
END NOTE] Kabboul also stated his understanding that Venezuelan
Ambassador to the U.S. Bernardo Alvarez was supposed to have a
discussion with the Ambassador concerning the expired U.S. -
Venezuelan MOU on Energy Cooperation. [NOTE: Following inquiries
from the Venezuelan Embassy and PDVSA directors in Caracas, Post
submitted a diplomatic note (Ref C) to the GBRV in September 2009
agreeing to discuss the GBRV interest in resurrecting the MOU. The
GBRV has not responded to the diplomatic note. END NOTE]
3. (C) Kabboul stated that he would travel to Washington, DC the
week of March 1 to participate in the Energy Council\'s private
meetings, including a Western Hemisphere Energy Roundtable on March
4. [NOTE: Subsequent to this meeting with Kabboul, the Ambassador
agreed to address this private gathering of state legislators. END
NOTE.] Kabboul said that Minister Ramirez instructed him to meet
with the U.S. Department of the Interior\'s U.S. Geological Survey
regarding a report it published in February titled \"An Estimate of
Recoverable Heavy Oil Resources of the Orinoco Oil Belt,
Venezuela.\" The technical report essentially doubled the estimate
of recoverable heavy oil in Venezuela\'s Orinoco belt. Kabboul
claimed he has a meeting scheduled with the principal drafter,
Christopher Schenk, of the report and is primarily interested in
discussing the USGS decision to use a recovery factor of 40% in the
report. [NOTE: Post contacted USGS and confirmed that it had not
been approached by the GBRV or PDVSA regarding a possible meeting
to discuss the report. USGS agreed to inform the Venezuela Desk if
the Venezuelan Embassy requests a meeting. END NOTE.] He added
that PDVSA is sending a technical delegation to visit Chevron\'s
Bakersfield production field to understand better how Chevron has
achieved a recovery rate of 70%. [NOTE: MENPET has used a 20%
recovery rate in its negotiations with the IOCs. END NOTE]
4. (C) OIL PRODUCTION: Kabboul claimed that MENPET\'s release of
petroleum export documentation to British auditing company
Inspectorate had settled the issue regarding PDVSA\'s production
levels. He expressed a belief that any secondary sources that do
not upwardly revise estimates of Venezuelan crude production are
acting out of political motives and refusing to recognize the
\"transparency\" the GBRV has brought to the issue. He said that
domestic consumption is only 540,000 b/d. [NOTE: The majority of
non-governmental estimates put Venezuelan domestic consumption
above 700,000 b/d. END NOTE]
5. (C) PDVSA ON CHINA AND RUSSIA: Kabboul stated that negotiations
with CNPC to form a mixed petroleum production company in the Junin
4 block of the Orinoco heavy oil belt had stalled and might be in
jeopardy, but that negotiations with the Russian consortium for a
project in Junin 6 were progressing. He claimed that the GBRV is
extremely upset with Chinese companies due to the discrepancy
between Chinese petroleum import statistics that suggest the PRC is
profiting from Venezuelan oil purchases by diverting the crude to
third markets and earning a sizable margin between the price the
Chinese companies pay the GBRV and the price they receive on the
open market for the same shipment. Kabboul intimated that tankers
had been diverted to the U.S., Africa, and elsewhere in Asia.
Furthermore, PDVSA had analyzed its crude sales to China and
determined that China had only paid $5/barrel of crude on a couple
of deals.
6. (C) CHEVRON AND CARABOBO: Kabboul stated that according to an
internal PDVSA study, Petroboscan (a PDVSA/Chevron mixed company)
is the most profitable petroleum mixed company in Venezuela. He
added that Chevron was the big winner in the Carabobo bid round and
that Chevron President for Africa and Latin America Ali Moshiri \"is
great.\" He expects Chevron and PDVSA will finalize a mixed company
agreement by the March 24 deadline announced by President Chavez.
7. (C) PETROLEUM COUNSELORS: Kabboul mentioned that Carlos
Figueredo, the Petroleum Counselor in the Venezuelan Embassy in
Washington, DC had returned to Caracas to take up a position as the
head of planning in the new Ministry for Electricity. Figueredo
has a long-standing close relationship with Electricity Minister
(and former PDVSA CEO) Ali RodrC-guez). Kabboul stated that he is
vetting potential replacements. [NOTE: Traditionally, the GBRV
nominates a senior PDVSA executive to serve as its Energy Counselor
in Washington, DC. Kabboul preceded Figueredo in that position.
END NOTE]
8. (C) COMMENT: Kabboul has proven to be a reliable interlocutor
over the last couple of months on basic issues, responding
privately to phone messages and e-mails. He has not demonstrated
an ability to engage honestly in conversations of substance, but
rather toes the party line. Offers of meetings with EmbOffs, while
the GBRV disregards the official USG response to requests for
dialogue on substantive energy issues with the Ambassador, are
disingenuous. END COMMENT.
DUDDY