Nicolas Maduro is keen on continuation with rampant corruption: not content with partnering with OFAC-sanctioned kingpins to "boost" PDVSA's output, he ordered formation of PETROSUR, a new 60/40 joint venture between Corporación Venezolana de Petróleo (CVP- affiliate of PDVSA) and Inversiones Petroleras Iberoamericanas Ltd, a €1,000 Cyprus shell controlled by Alejandro Betancourt, through a Dutch vehicle called Stichting Administratiekantoor Inversiones Petroleras Iberoamericanas. Betancourt is otherwise known as CEO of Derwick Associates, partner of Francisco Convit in various ventures, and Conspirator 2 in DoJ recent $1.2 billion money laundering indictment involving PDVSA, Convit, Maduro and sons.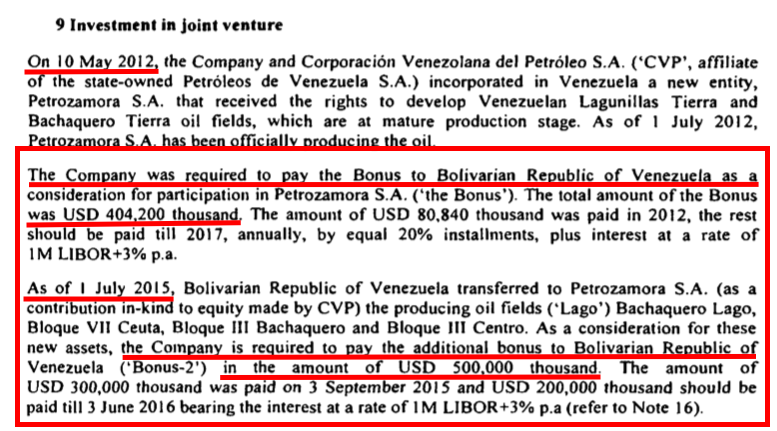 This is the second such joint venture in which Convit and Betancourt participate, Petrozamora (PDVSA- Gazprombank) being the first. In the case of Petrozamora, Derwick and Gazprombank paid a $904 million bribe/"bonus" (picture), to be allowed to form the JV with CVP.
As in first instance, all ingredients of corruption are there: JV having been approved by someone whose office had no power to approve such a thing (Maikel Moreno, Venezuela's Supreme Court head); Dutch shell company "represented" by Jose Ramon Blanco Balin, investigated in Spain for orchestrating one of the largest corruption scandals involving Mariano Rajoy's Partido Popular; Cyprus shell company manned by proxies Marinos Beros and Eudokia Georgiou; indicted thugs on the run as partners...