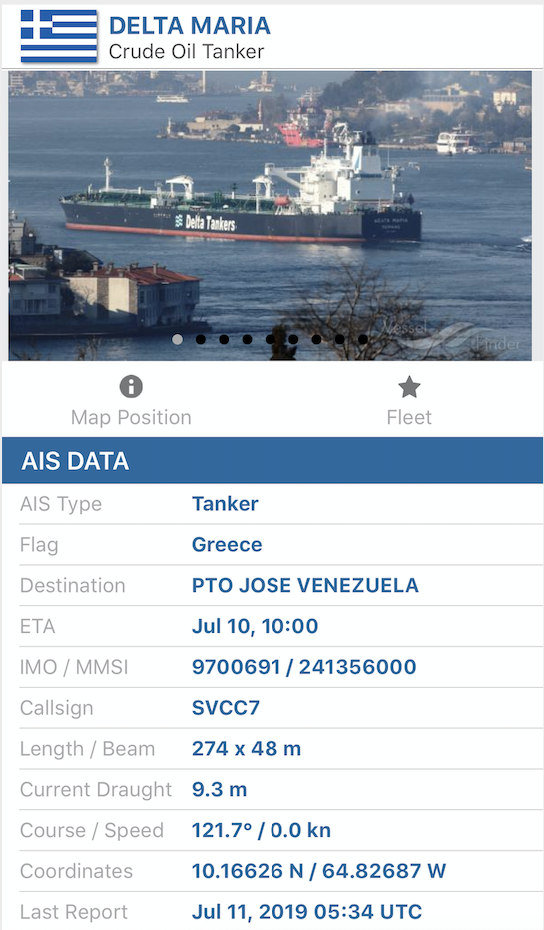 UPDATED 14/07/2019* - 16/07/2019* | In the ever evolving game of chicken between PDVSA and U.S. sanctions regime, a new player emerges: Singapore's PROCERIUM ENERGY PTE. LTD.  (201732917R). My PDVSA sources tell me Procerium-operated tanker Delta Maria is about to lift 1,000,000 barrels of DCO, bound for Shandong, China *(PDVSA CONTRACT NO 38000469). A second shipment  (also Greek flagged Nautilus from Delta Tankers) is on its way to lift same amount of cargo, to same destination. Did a bit of digging and found Thomas Haeusler, as usual a dodgy Swiss lawyer, behind Procerium. Haeusler is, most probably, a proxy for an almost infinite number of possible UBOs seeking to cash in on opportunities for non-American individuals / businesses created by half hearted Treasury measures.
There's little in the way of Haeusler's previous involvement with either Venezuela or PDVSA. There is, however, an SEC reference of his association to (we are certain) the very nice and legitimate entrepreneurial activities of Kazakhstan's Kenes Rakishev, who happens to be (as per Wikipedia handle w care), son in law of Kazakhstan's current Ambassador to Russia.
Our sources claim that Rosneft, which provides nearly all of PDVSA's gasoline needs nowadays, might be involved with Procerium's new activities in Venezuela.
Expect a Reuters or a Bloomberg "exclusive" about the above in the coming days... In the meantime, hopefully Treasury can expand sanctioned list and include all of the above.
*UPDATE 16/07/2019: PDVSA sources inform that status of Procerium's 1,000,000 barrels offtake has to be furnished to Nayara Energy. The crude cargo is to be diverted to Vadinar, instead of Shandong. Procerium is alleged to be just a front for Rosneft / Trafigura operations with the Maduro regime.