From: "Andres Guzman"
Date: Tue, 5 May 2009 14:26:37 -0300
To: oscthom@gmail.com
To: Subject: Para el ministro 
Oscar favor hacerle llegar al Ministro confidencialmente esta info: 
Asunto: Memorando de Entendimiento entre PDVSA y FLUVIOMAR SA 
Estimada Sra. Embajadora Alicia Castro, 
Continuando nuestra amable diálogo telefónico, tengo el agrado de enviarle el siguiente resumen de lo conversado entre PDVSA y nuestra empresa FLUVIOMAR SA. Nuestra intención es de que en la próxima visita Presidencial se pudiera firmar algún tipo de protocolo sobre la materia de logística, distribución y transporte entre la Republica Bolivariana de Venezuela y los países miembros del MERCOSUR.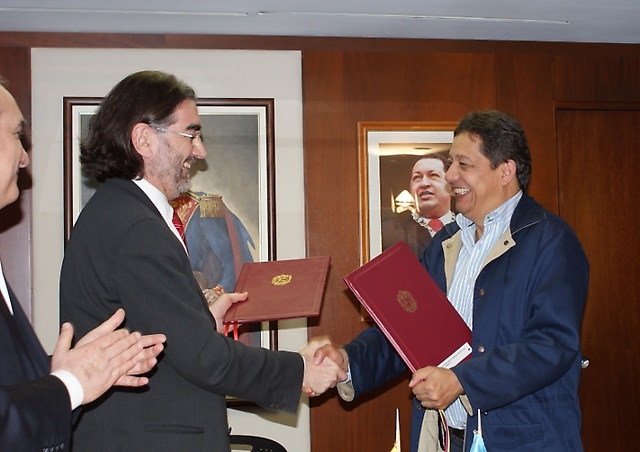 Andres Rene Guzman (left) and Asdrubal Chavez,
signing agreement to create Fluvialba 
(credit Aporrea.org)
LONDON, 17.01.2013 | The above is an email sent to Oscar Alfredo Thomas by Andrés René Guzman "for the attention of the Minister". Oscar Alfredo Thomas is Executive Director of Yaciretá Binational Entity, a joint Argentina - Paraguay commission that built and runs the Yaciretá Dam, and "the Minister" is none other than Julio de Vido, Argentina's Minister of Planning and Public Investment. 
Guzman asks Thomas to send a message to de Vido, who in turn forwards it Jose Maria Olazagasti (de Vido's right hand man and extra-official chargé d'affairs on all things Venezuela), who ultimately passes it to Cristina Kirchner's Ambassador in Caracas, Alicia Castro. The communication from Guzman goes on to explain his background, capacity of Fluviomar company, and intention to enter into a wide-scope agreement with PDVSA. It can be read in full here (Spanish). Only 10 days later, on 15 May 2009, a Memorandum of Understanding was signed between the parties. In July Guzman got back in touch with de Vido, again through Thomas, with an update on the deal. Then in August, President Hugo Chavez's cousin, Asdrubal Chavez, officially announced the fusion of PDVSA and Fluviomar, and the creation of Fluvialba.
In another revealing email, Andres Guzman is referred to as "advisor" of Paraguay's former President Fernando Lugo, although Guzman is from Argentina...
So who is this Andres Rene Guzman, who enjoys such good relations, and access to the highest offices in Argentina, Paraguay and Venezuela?
Guzman is mentioned as Manager of Fluviomar in a business wire entitled "Argentina's Fluviomar, Samuel Gutnisky integrate Parana river fleets", dated March 2001: "FM Navegacion (FMN) said it is integrating the Parana-Paraguay river fleets of Fluviomar SA and Samuel Gutnisky SA... A joint-service between FMN and Cia Naviera Horamar SA and Brazil's Cinco-Bacia takes the total to over 250 barges, 28 tugs." He is also mentioned as Fluviomar's CEO in the IV Colloquy of Andean Ports, held in Santa Cruz de la Sierra, Bolivia, in October 2001.
ABC Color, Paraguay's largest newspaper, traced Guzman's background in the region, publishing an article about his relations with President Fernando Lugo in July 2009. In it, he is depicted as a former cab driver, an evangelical preacher, and even a pest-controller (fumigator), who eventually landed in the fluvial cargo business. According to this source, Guzman started off in Vilas, a cargo company that went bust under his leadership. From there he built an overnight fortune, through acquisition of barges (see above), establishing himself as a powerful impresario in that sector. Guzman worked with the Lopez brothers (owners of Horamar), who became rich by providing cargo services to Petropar, Paraguay's oil company. Guzman also worked with American Commercial Barge Line (ACBL, now ACL).
ABC Color also has him as one of the main financial backers of Fernando Lugo in 2008, before winning Paraguay's presidency. What is clear is that Guzman managed to get a few sweet deals from Lugo once in office. His Argentinean companies, Fluviomar / Conosur, displaced that of the Lopez brothers (Horamar) and all other Paraguayan companies, and was awarded, in an illegal non-bidding process, rights to transport most of Petropar's oil and oil derivatives cargo. So far so normal, but it soon ran into trouble: another article has it that New York-based Provident Group attempted to seize $30 millions worth of Petropar payments to Fluviomar, due to its failure to pay a loan (earlier acquisitions). ABC Color added that Fluviomar had pending debts with Cargill Finance, $80 million; Medley Found, $50 million; Merril Lynch, $20 million; and MMX, $10 million; and it was sued by Ocean Bulker in the U.S. for another $25 million.
The deal with Petropar is believed to have been worth $550 million per year, alas it was not meant to last long: Paraguay's Commissioner of Procurement ruled against the deal, and was removed from the post as a consequence. But Guzman managed to win over Argentina's President Cristina Kirchner and her Venezuelan counterpart Hugo Chavez, getting his company in other lucrative deals:
his Fluviomar company became an associate of Argentina-controlled TANDANOR for the construction of 50 barges and 15 river ships for PDVSA; 
Fluviomar became partner in Fluvialba, a Venezuela – Argentina binational joint venture to give Venezuela access to MERCOSUR; 
Fluviomar was to transport -through joint venture Fluvialba- all iron, soy, beef and other PDVSA/Venezuela-related purchases and cargo in the Southern Cone's Plata-Parana waterway; 
part of the PDVSA / Petropar deal, whereby PDVSA delivered oil, gasoil, and other derivatives on Delivered Ex Ship (DES) conditions in Villa Elisa, named Fluviomar as partner of choice.
 
One of his companies (Fluviomar) is mentioned in three separate agreements between Venezuela and Argentina. He was invited by Hugo Chavez to consult on how Venezuela could further develop the Orinoco waterway. He travelled to Venezuela with Cristina Kirchner to ink some questionable deals. In addition, Guzman appears to have been involved with Palmat, an intermediary company suspected to have charged 15% commission to all Argentinean companies that sold products or services to Venezuela as part of another binational agreement. Judge Julian Ercolini requested from Argentina's Foreign Ministry copy of bilateral agreement (worth $500 million) signed between PDVSA and Fluviomar, and sent another request, to the General Inspector of Justice, to provide registry documents related to Palmat S.A., Palmat USA, ACBL Hidrovías S.A., Fluviomar and Fluvialba, after it was alleged that said companies shared directors (Paloma Lowenthal and Juan de Dios Santucchi).
ACBL Hidrovias S.A., Fluviomar and Palmat share the same address, and with respect to directors evidence is as damning: Paloma Lowenthal was Fluviomar's Manager of Institutional Relations in 2007. ACBL and Fluviomar also share the same CEO in Venezuela, Exeario Enrique Gil Rivas [see here and here], and both companies have been stricken off the registry (Registro Nacional de Contratistas). Gil Rivas is also quoted as Manager of ACBL in the Dominican Republic, which registry records show as dissolved. Guzman appears as partner/manager of Fluviomar Venezuela in another government site.
Interestingly, there is no record of Fluviomar in Argentina's Unique Taxpayer Code (CUIT) database. There are, however, two separate records related to Fluvialba: the first since September 1994; and the second (related to FLUVIALBA - UNION TRANSITORIA DE EMPRESAS) from end of July 2009.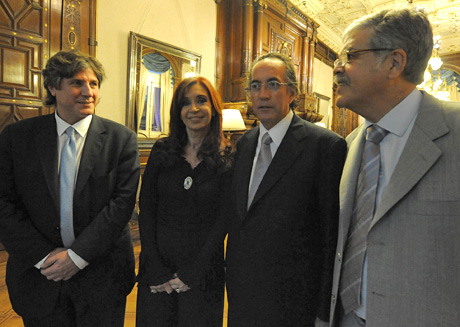 From left: Amado Boudou, Cristina Kirchner, Oscar 
A. Thomas and Julio de Vido (courtesy of Yaciretá)
According to leaked emails, Guzman communicates with Julio de Vido through Oscar Alfredo Thomas. Check the picture on the left. Jose Maria Olazagasti is Julio de Vido's minion. The partner of Jose Maria Olazagasti's sister is Juan Zabaleta, Secretary of Argentine's Senate and right hand man of Amado Boudou, Argentina's Vice President. Therefore, Guzman doesn't lack connections in Buenos Aires. The fact that as soon as Lugo won Paraguay's Presidency share of Petropar shipments undertaken by Guzman companies increased dramatically indicates that claims of his close connections to Lugo are credible. While bilateral agreements between Cristina Kirchner and Hugo Chavez have been called "the fraud of the century", the name of Guzman keeps popping. Guzman maintains that criticism of his contracts and relations are a media campaign "promoted by those who lost deals when Lugo was elected."
How come a company that does not seem to have paid taxes ever benefited from all these contracts? Who in Paraguay, Argentina and Venezuela failed to do due diligence on it? How come a man nearing bankrupcy is allowed into binational deals worth hundreds of millions? How come his speaking on behalf of MERCOSUR countries without holding public office anywhere, in communications to Kirchner's Ambassador in Caracas, did not raise alarms? What was Julio de Vido's part in this? Did he get commissions from Guzman's deals with Chavez? How about Olazagasti? And Kirchner, what does she have to say? Guzman partnered with TANDANOR, in a barge-building deal with Venezuela, did she get a kickback from that, or was she burned after exposure of the $800,000 that Chavez's emissary Guido Antonini failed to give her for re-election?
Guzman is purchasing bankrupt companies in Venezuela nowadays. His accounts with U.S. companies  are still pending. So long as chavistas are in power, his businesses will probably mushroom. Ditto in Argentina, where his utterly corrupt allies are either in office or running for it. The small nation of Paraguay though, by kicking out Lugo and Guzman, may have well set a precedent among thuggish administrations of MERCOSUR countries on how to deal with such specimens.
---
The "Who Is?" series is a new type of article I shall be posting on a regular basis.  Given that this blog has become a source for journalists, bankers performing KYC, prosecutors, immigration authorities, public policy analysts, intelligence agencies, and concerned citizens, I have decided to publish research in a simpler and more comprehensive way.  The "Who Is" series is an attempt to provide accurate, factual snapshots of some of the more "colorful" members of the fauna inside corrupt governments and enabling societies. Readers' suggestions for a "Who Is?" profile can email me at alek dot boyd at gmail dot com.