Sometimes, being a Venezuelan national is actually a "good" thing. Take Victor Vargas, captain of #team_ricoecuna, read "People write stories about me saying I have a Ferrari, a plane, and a yacht, but it's not true. I have three planes, two yachts, and six houses. I've been rich all my life." Truth is, Vargas has most definitely not been rich all his life. In fact, he was, like other Venezuelan "bankers", a low life who "made it" through marrying into a banking family that eventually allowed him to do all manner of dodgy deals with the State. Vargas is in a pickle right now. One of his Caribbean "banks", Banco del Orinoco N.V., was intervened by Curaçao's Central Bank, and has been declared bankrupt. The measure produced a domino effect: after Curaçao, authorities in Panamá, Antigua and, even, Venezuela seized control of Vargas' "banking" group.
Vargas is, or course, "disputing" the whole thing. First move was to suggest that Curaçao was a jurisdiction with a deficient stance regarding prevention of money laundering. It escaped the man that he had chosen and used that jurisdiction for years, before his "bank" was sued by none other that Constructora Andrade, of Lavajato fame. Venezuelan clients of Banco del Orinoco have also been swindled. Social media is filled with accounts of unsuspecting people that deposited Bolivares, in Venezuela, to escape running inflation and safeguard savings in USD in corresponding USD-denominated accounts in Curaçao, to see their money disappear.
Vargas is non chalant. Sources report that he's flown (commercial now) to the Dominican Republic, where he has another "bank", and other Caribbean jurisdictions to scramble funds to be able to counter lawsuits and financial watchdogs' measures. The second wife, not the one that came from money, has reportedly been inventorying works of art and expensive possessions for a fire sale. Sources report that Vargas' Banco Occidental de Descuento "banking" group has a one billion dollar hole that the man that's been rich all his life can't plug. Worse, sources familiar with Vargas' affairs claim that drug money belonging to Venezuelan narco generals is  owed.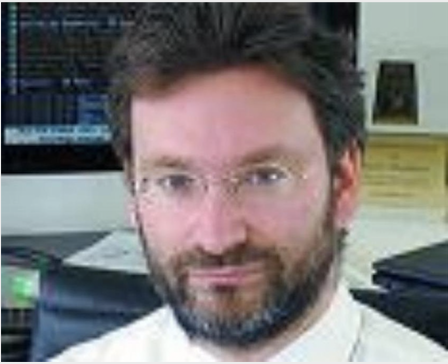 This was like a Chronicle of a Death Foretold. Anyone with an iota of common sense could see where Vargas' jet setting, polo playing, yatch partying lifestyle was heading. No Venezuelan bank can sustain that. Vargas made a good chunk with bonds, in Argentina, early in the Chavez administration. His deals in Argentina brought him to good company such as Sergio and Diego Marynberg, a client of Banco del Orinoco both personal and institutional through his Adar Funds. Polo brought him close to other equally nice chaps, such as Jorge Pepa, Patrick Teroerde... Sources familiar with Vargas' operation have informed this site that Banco del Orinoco simply ignored red flags raised about onboarding clients such as Marynberg, Teroerde, and Alejandro Ceballos (Sarleaf Limited) on Vargas' orders. Banco del Orinoco held and processed hundreds of millions worth of pass-through transations for its clients. It ignored AML regulations and it avoided, on purpose, to submit relevant reports with corresponding authorities.
Vargas was involved in the acquisition of Cadena Capriles by proxies of Tareck el Aissami. Teroerde and Robert Hanson, of Hanson Asset Management in London, were also involved. Documents from Banco del Orinoco indicate transactions in excess of $100 million to vehicles controlled by Teroerde and Hanson. Interestingly, Hanson shells also seem to be involved with Noor Capital, as well as ESVENCA, an oil co controlled by Vargas that got over $600 million worth of PDVSA contracts.
Had it been owned by an Allen Stanford, Banco del Orinoco's collapse would probably be front page news. Alas this is Venezuelan clients, and a subsidiary of a Venezuelan "bank" we are talking about. This is when Vargas is thanking his being Venezuelan as a very good thing, from a PR perspective. His "reputation" isn't going to suffer, however much he is outed as utterly corrupt in places like Panama, Curaçao, Antigua or Venezuela. Next season he'll probably be welcomed back in Sotogrande or Guards.
Antonio Jose Morales Rodriguez, aka "El Catre", a sargeant that Hugo Chavez took under his wing and became (in)famous for ordering higher rank officials to free an arrested drug trafficker caught with two tonnes of cocaine, is heading Venezuela's financial watchdog (Superintendencia de Bancos):
"... a trusted reader informs us that Majed Khalil is the bagman of General Francisco Rangel Gomez, former president of aluminium and mining giant Corporacion Venezolana de Guayana (CVG), current Governor of Bolivar state. Hence his deals with CVG. Majed Khalil is also a partner -and best man- of Lieutenant Antonio José Morales Rodríguez (aka "el catre"), godson and aide-de-camp of Hugo Chavez and one of his most trusted men. Morales is currently director of the office of the Secretary of Venezuela's Presidency. Morales has recently been fingered by former Supreme Court Judge Eladio Aponte Aponte as one of the men who ordered him to free an army drug trafficker (Pedro Maggino) caught with 2 tonnes of cocaine in Venezuela."
Morales signed a directive ordering intervention of Banco Occidental de Descuento in Venezuela. Vargas doesn't have anything to fear there, where fugitives, criminals, terrorists and thugs of all stripes live very well indeed, run the presidency and highest offices, and control everything. Vargas will only have to get creative to return vanished funds to those that matter, i.e. to Morales and co.
Curaçao authorities should be assisted in the task of restituting victims of Vargas' operations. Perhaps authorities further up north will take an interest, considering Banco del Orinoco's recent transactions with Noor Capital. A letter from June 2015 leaked to this site provides a good lead into Banco del Orinoco ownership structure: ESMERALD PARTNERS I S.A., a company registered in Luxembourg (B114926), owned 22%, while Cartera de Inversiones Venezolanas had 59.375% and Banco Occidental de Descuento owned 18.625%.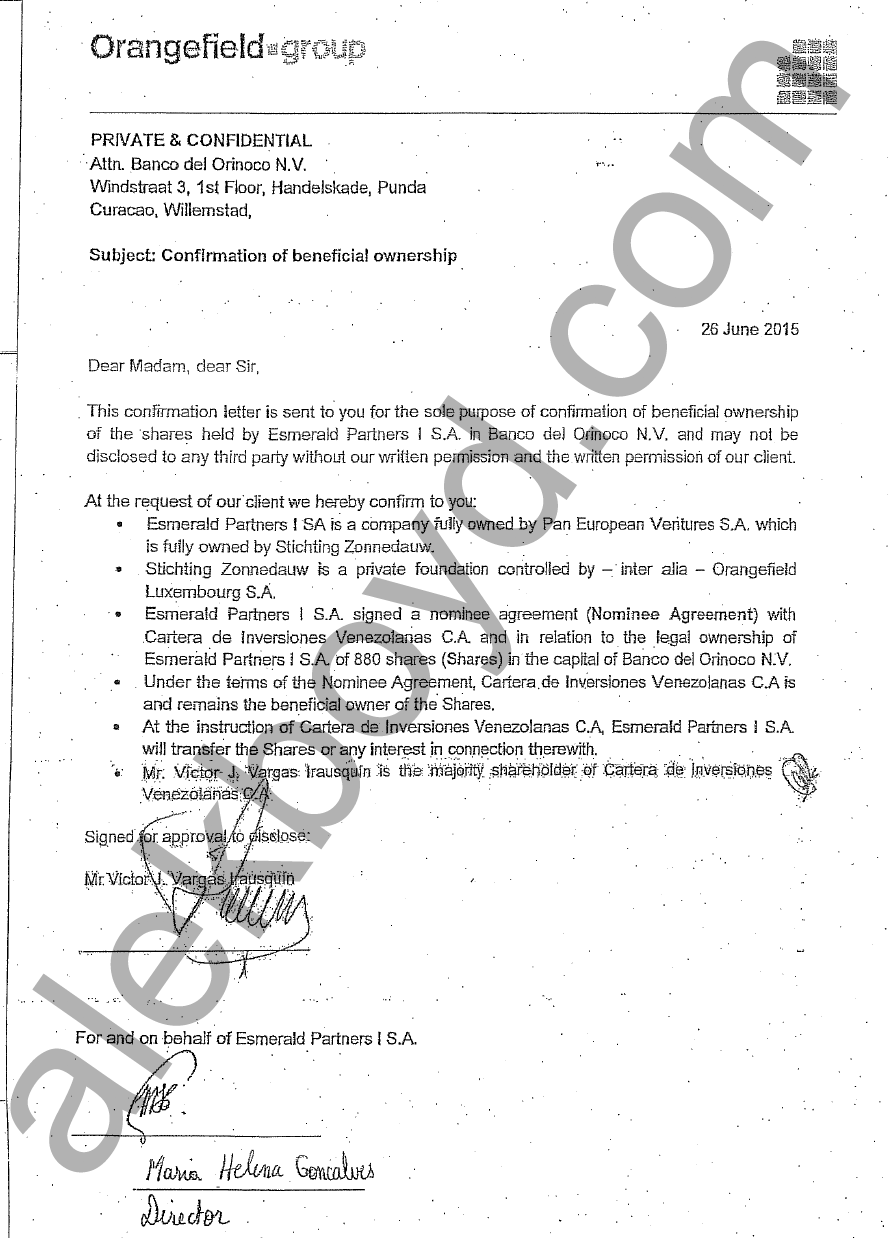 Orangefield Group is no more, however this site was able to corroborate some of the information related to Esmerald Partners I S.A. at Luxembourg's register of companies. It's filings make for very interesting reading, especially deals with Nelson Mezerhane's Banco Federal.