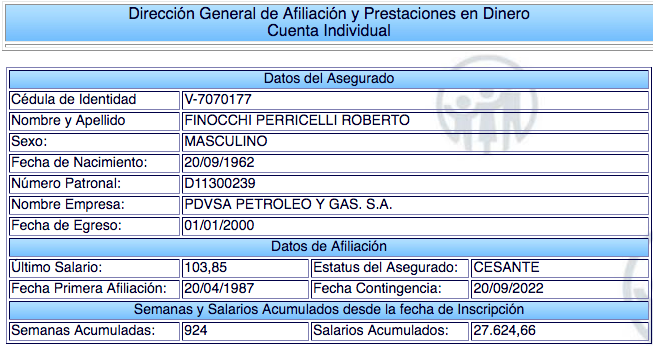 A source with an intriguing tale of corruption brings me back to corruption issues. For a long while, PDVSA was LatAm's largest energy conglomerate. Oilmen from Venezuela have spread far and wide since Hugo Chavez's 1998 electoral victory. One former member of PDVSA staff, Roberto Finocchi, popped up in Lava Jato for having coordinated bribe payments to Brazilian politicos in exchange for contracts with Petrobras. So far nothing new.
Digging a bit further on Finocchi reveals a scheme remarkably similar to the one Francisco Morillo and Leonardo Baquero -also former PDVSA employees- were running. The method seems to be: learn the ropes for a short while, and then set up shop to basically win contracts by out-corrupting the competition. In application of that model Morillo, Baquero and Finocchi are not alone.
It does not surprise, for instance, that Glencore and Trafigura were the partners of choice of Morillo and Baquero. Glencore and Trafigura have grown to size, precisely, by sticking to Mark Rich's tried and tested method, of paying corrupt monkeys in far flung Banana Republics to become minted. One of Rich's boys (Bo Ljungberg) gets a mention in Finocchi's Brazilian adventures.
Also of note: Finocchi's employer, the Sargeant family business, have also done similar deals with PDVSA and Wilmer Ruperti. Equally interesting, the partnership between the Sargeants and Vitol, yet another corrupt defendant in scheme to defraud PDVSA, and, expectedly, a solicitous party to Petrobras corrupt draft-emails context of possible ventures involving Finocchi / Sargeants.
Finocchi coordinated a scheme whereby Sargeant Trading and Sargeant Marine got nearly $180 million worth of deals, thanks to bribe payments to Petrobras' Supply and Special Products Managers. To facilitate the deals, Finocchi also targeted Candido Vaccarezza, Congress Leader for the Workers Party (PT) under both Lula and Dilma governments.
Finocchi was indicted in the U.S. for FCPA violations, i.e. payment of bribes to obtain contracts.
But what to make of its employer though? Bribes payments / corruption in Venezuela, in Brazil as seen above… Apparently also in Ecuador, through another Sargeant's subsidiary -Global Asphalts Logistics and Trading (GALT)- that allegedly overcharged Petroecuador some $4.5 million, winning a rigged bidding process that almost certainly was facilitated by applying same formula.
Aren't these practices similar to Odebrecht's, that had like a separate global office to ensure the right palms were greased with the right amounts to "win" business deals? If we go back a bit further, isn't this Mark Rich's school? As it turns, PDVSA boys learned the lesson, as much as every other energy player out there.