Let me start with the basics: El Universal, one of Venezuela's oldest newspapers, was sold recently to a Spanish company called Epalisticia.
Epalisiticia, a €3,500 shell registered in July 2013, has one shareholder: Tecnobreaks Inc.
Tecnobreaks Inc. was incorporated in Panama in July 2011 by Carlos Odin Velazco, a Venezuelan who had been advised that registering such a company would help him regularize his immigration status in Panama.
There are three Spanish proxies behind Epalisiticia: 1) Eduardo Escribano Lopez de la Osa (passport AAI919496), 2) Jose Luis Otero Basanta (passport AF367761), and 3) Jose Antonio Lopez de la Torre (passport AE961271).
When asked about his involvement in the purchase of El Universal on 10 July 2014, Carlos Odin Velazco expressed disbelief, and claimed he had nothing to do with it, nor did he have the funds to make such a purchase.
A week later, on 17 July 2014, the agent for Tecnobreaks Inc. (Jose Alejandro Quiodetis) registered a document of an "extraordinary shareholders meeting", purportedly held on 14 February 2014, during which Carlos Odin Velazco was removed as company director. The three Spanish citizens referred to above, and related to Epalisticia in Spain, were appointed as company director, treasurer and secretary. Tecnobreaks capital was increased from $10,000 to $1,000,000.
When I ask Carlos Odin Velazco on 3 September 2014 about that "extraordinary shareholders meeting" -held in February according to registry documents- he said that he was never informed about it, and went on to say that Quiodetis had done so without his authorization. Odin Velazco went on to claim that Quiodetis had sold Tecnobreaks without his permission, and therefore none of the decisions purportedly reached during that meeting were legally valid.
Odin Velazco explained that when he incorporated Tecnobreaks in 2011 the registrar issued a certificate of shares, similar to a diploma, without which no company can be sold (see below). Furthermore, he claimed that he is still in possession of that certificate and continues to be the legal owner of Tecnobreaks.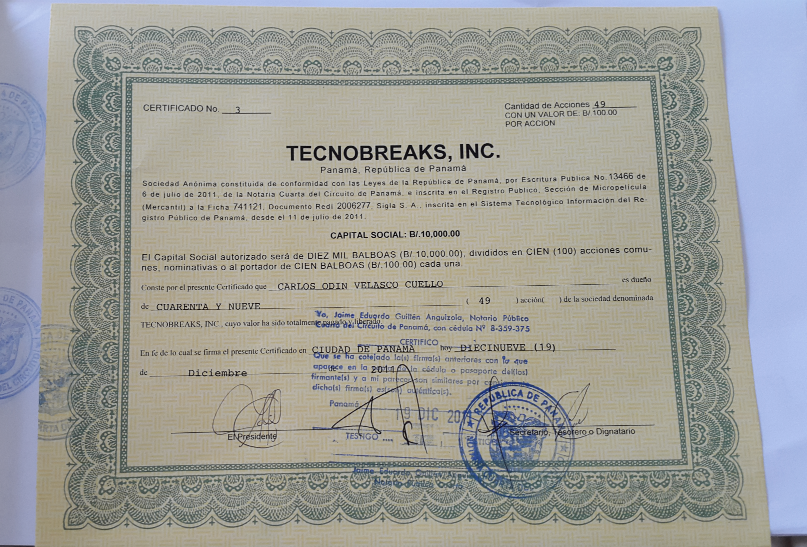 This is the certificate showing Odin Velazco as bearer of 49% shares. Another 49% is owned by his father. The Panamanian agent accused of forging documents (Alejandro Quiodetis) has 1%.
Odin Velazco also relayed that since revelation of his connection to Tecnobreaks and Epalisticia both himself and his family have received threats.
Odin Velazco confronted Quiodetis with some of the information posted in this website. Quiodetis is said to have become quite nervous upon hearing that the first sole partner of Epalisticia in Spain was a company (Mediterranean Search) which in turn is shareholder of Banesco International Holding. Epalisticia claims in its website that it has $1 billion worth of investments. Banesco's principal shareholder, Juan Carlos Escotet, has recently bought a bank in Spain for little over €1 billion.
Odin Velazco said he was considering to start legal proceedings against Quiodetis in Panama, for the unlawful appropriation of Tecnobreaks. NOTE ADDED 23.09.2014: Odin Velazco sent me an email today saying he will sue Quiodetis, Eduardo Escribano Lopez de la Osa, Jose Luis Otero Basanta, and Jose Antonio Lopez de la Torre, for violations to article 366 of Panama's Penal Code, which deals with forging of public documents and penalizes those found guilty with between four and eight years imprisonment.
Apart from Quiodetis, two people took part in the "extraordinary shareholders meeting": Gustavo Chacon and Aristeo Boyd. No information has been found about Chacon, however Boyd appears to be a footballer. 
Gustavo Mata Borjas, a Venezuelan lawyer with connections to Banesco, is cited as legal counsel to buying party.
Andres Mata, former owner of El Universal, has not answered any requests for comments regarding sale.