There's been a few developments in Venezuela's oil sector that have gone under the radar. One of them is related to one of Derwick Associates: Francisco D'Agostino. The other involves Petrozamora, the PDVSA - Gazprombank joint venture where Derwick Oil & Gas is a partner.
Venezuelan sources say PDVSA is buying quite a lot of gasoline from Elemento Oil and Gas Ltd, which is a shell controlled by / associated with Francisco D'Agostino. As reported by Reuters in April 2017, D'Agostino's CT Energia (d/b/a Elemento) continues to be favored by the new regime in PDVSA. Tareck el Aissami and close collaborators are said to be getting bribes from D'Agostino.
D'Agostino appeared in the energy sector some time ago through an "investment" in Harvest Natural Resources (Petrodelta). D'Agostino's funds were moved around through other shells under his control (CT Energia). Harvest ultimately announce it was dissolving. Harvest is also suing Rafael Ramirez over bribes.
D'Agostino is no stranger to corruption, and to getting deals in Venezuela under whatever circumstance. His father, Franco, was one of the most corrupt contractors of the pre-Chavez era. D'Agostino Jr. admitted that bribes always have to be paid to get contracts in Venezuela. D'Agostino's brother in law is Henry Ramos Allup, in turn one of the most pernicious characters of Venezuela's political sphere.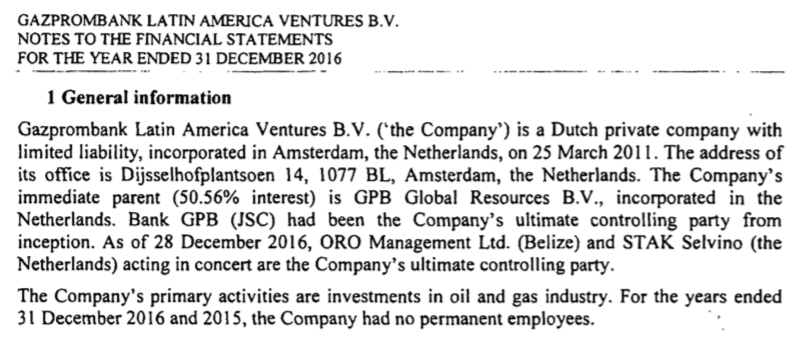 Then, U.S Treasury sanctioned Gazprombank Latin America Ventures BV, which is the shell created by Gazprombank and Derwick to participate in Petrozamora. Dutch registry documents show that "As of 28 December 2016, ORO Management Ltd. (Belize) and STAK Selvino (the Netherlands)" are its ultimate controlling parties. ORO Management Ltd is linked to GPB Global Resources, while STAK Selvino Investment Ltd in turn is one of those Cyprus shells that puts control of its assets through a Dutch foundation. Selvino is controlled by Orlando Jose Alvarado Moreno, Derwick's CFO. Forrmer GPB employee Christophe Gerard is also working for Selvino now.
Accounts filed in the Netherlands mention bonuses, that Gazprombank Latin America Ventures BV had to pay to the "Bolivarian Republic", to be able to join Petrozamora. As seen below, a total of $904.2 million was paid by Gazprombank Latin America Ventures BV. It is unknown to whom these "bonuses" bribes were paid.