Brazil's Estadao reports that Gazprombank set up a money laundering scheme in Switzerland with Derwick Oil & Gas. The explosive revelations come after a probe by Switzerland's financial watchdog into the Panama Papers ended with Gazprombank being sanctioned for "serious shortcomings in anti-money laundering processes". 30 Swiss banks connected to Panama Papers information were investigated. Gazprombank was the only bank sanctioned.
Estadao reports that "atypical" transactions, such as a $35 million loan that Derwick gave to Gazprombank in 2013, is what set alarms. Swiss authorities have found numerous such unexplainable transactions, between Derwick and Gazprombank. Documents seen by this site show transactions for close to $200 million, just in the first nine months of 2013, pertaining accounts belonging to Francisco Convit and Alejandro Betancourt (Derwick Oil & Gas principals) at Compagnie Bancaire Helvetique (CBH). From CBH funds were subsequently wired to Gazprombank. Said documents are part of the evidence used in a multi-jurisdictional U.S. criminal investigation in which Switzerland is participating. Derwick execs were otherwise fighting Swiss authorities to prevent information exchange with the U.S. Justice Department, in relation to some 42 transfer to Swiss banks amounting to approximately $145 million in 2010.
Derwick Oil & Gas, a Barbados shell created by Convit, Betancourt and Pedro Trebbau, bribed its way into Petrozamora, a PDVSA - Gazprombank joint venture. Derwick and Gazprombank, in turn, incorporated a shell in Amsterdam, called Gazprombank Latin America Ventures B.V. While Gazprombank's Vice President Boris Ivanov signed an agreement with PDVSA's CEO Rafael Ramirez for the formation of Petrozamora, Derwick's stake was kept hidden until an investigation by this site revealed its connections.
Estadao reports that Gazprombank's referred to FINMA's sanctions in Switzerland as related to pre-2009 activity, when Gazprombank operated in Switzerland under another name: Russian Commercial Bank. This is, of course, total nonsense. For Gazprombank's relations with Derwick in Venezuela officially started in 2009, when $500 million from CVG went missing after instructions sent from Alejandro Betancourt's office.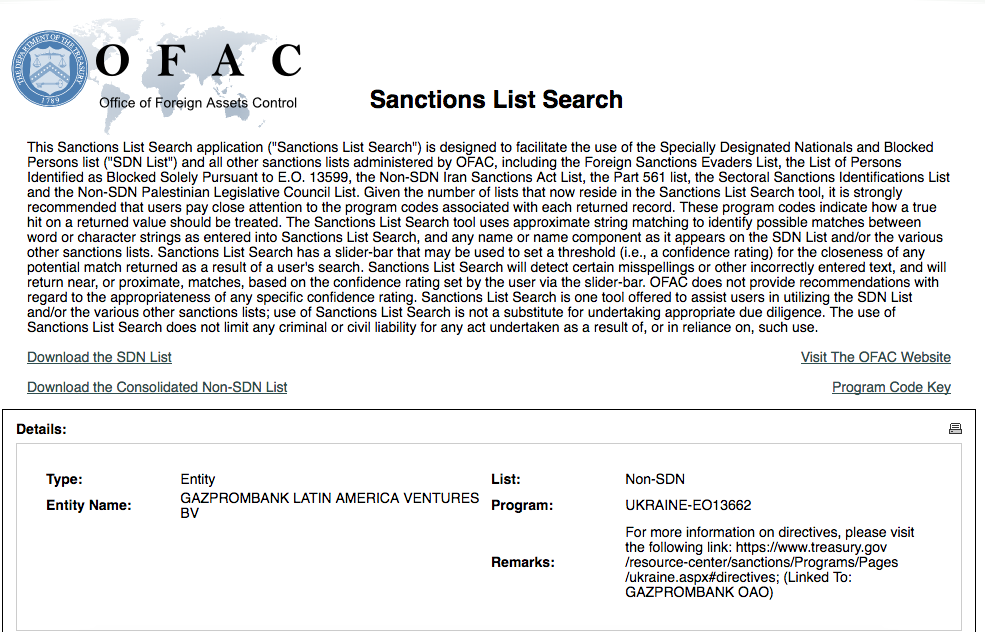 Gazprombank Latin America Ventures B.V. is an OFAC-sanctioned entity. So is its parent company Gazprombank, and its CEO Andrey Akimov. This means, Boris Ivanov, Christophe Gerard, Orlando Alvarado and Francisco Convit (shareholders / directors in Gazprombank Latin America Ventures B.V.) are effectively under a U.S. Treasury sanction.*PLEASE SEE NOTE ADDED BELOW*
Derwick Associates, another shell controlled by Betancourt, Convit and Trebbau, is part of different criminal probe into PDVSA's corruption. At least one official, Cesar David Rincon Godoy, has already pleaded guilty in connection to it. Other individuals involved, such as Nervis Villalobos (arrested and pending extradition to the U.S.) were contracted by Derwick to obtain procurement contracts. And yet other officials, Luis Carlos de Leon and Javier Alvarado Ochoa, either arrested and pending extradition or on the run, signed procurement contracts with Derwick in exchange for bribes.
Switzerland authorities are sharing evidence with American counterparts about Derwick Associates, and now, about Gazprombank. There's a delicious irony in all this: Andrei Akimov, the secretive Putin apparatchik, undone by chavista corruption.
ADDENDUM 30/04/2018 18:22GMT:
The U.S. Treasury Department emailed a reply to a question sent with regards to date in Gazprombank Latin America Ventures B.V. had been sanctioned. Please see email below [bold added].
From: <OFAC_Feedback@treasury.gov>
Subject: RE: Gazprombank Latin America Ventures B.V.
Date: 30 April 2018 at 16:29:16 BST
To: <alek.boyd@gmail.com>
Good morning and thank you for your inquiry.
All OFAC actions, including changes to the Specially Designated Nationals List and Sectoral Sanctions Identification List ("SSI List"), are posted on our OFAC Recent Actions page. You may stay up to date by visiting this page, subscribing to updates via email, or subscribing via RSS.  Please see: http://www.treasury.gov/resource-center/sanctions/OFAC-Enforcement/Pages/OFAC-Recent-Actions.aspx
On September 1, 2016, OFAC posted an update on its OFAC Recent Actions pertaining to Gazprombank Latin America Ventures BV that may be of assistance to you.  That page can be found here: https://www.treasury.gov/resource-center/sanctions/OFAC-Enforcement/Pages/20160901.aspx
Please note, however, that OFAC applies a 50 percent rule to entities on the SSI List created in July 2014 in the Ukraine-/Russia-related sanctions context. The property and interests in property of persons on the SSI List (and entities owned 50 percent or more in the aggregate by one or more persons subject to the SSI List restrictions) are also subject to the SSI List restrictions. Depending on your inquiry, therefore, you may also need to determine whether persons with ownership interest in the entity were included in the SSI List at an earlier date.  For additional information, see answers to frequently asked questions on this topic here: https://www.treasury.gov/resource-center/faqs/Sanctions/Pages/faq_general.aspx#50_percent.  
Regards,
Office of Foreign Assets Control
U.S. Department of Treasury
1500 Pennsylvania Ave. NW
Washington, DC 20220
Toll Free: 1-800-540-6322
Email: OFAC_Feedback@treasury.gov
Website: OFAC FAQs
bv