There's this endless debate about Russian interference in U.S. affairs. To one side of the aisle, Trump only got to the White House thanks to meddling of Putin's operatives, while the other is ever so quick to dismiss conflict of interests of too-close-to-Trump folk. Case in point: Trump's very own lawyer, Rudy Giuliani.
Jon Sale, one of the stable of "prominent" attorneys retained by Venezuelan thug / London-resident Alejandro Betancourt, made intros so that Giuliani would visit Betancourt in El Alamin hunting pile near Madrid. Point to discuss: Betancourt's direct involvement in, at least, two multi billion dollar probes by the Justice Department (DoJ) that have already placed in wanted status Francisco Convit and Raul Gorrin, two of Betancourt's criminal associates.
Giuliani's brief was to lobby the DoJ to obtain a get-out-of-jail card for Betancourt, over whose head a sealed indictment hangs. The argument: since financial support is given to "interim President" Juan Guaidó by Betancourt, he should be spared, as his and Trump's policy vis-a-vis regime change in Venezuela are aligned.
One must wonder how much of Betancourt's own connection to Russian interests Giuliani knows. One must wonder what understanding do Sale and Giuliani have of KYC and vetting clients.
On 23 February this year, a desperate email was sent by Orlando Alvarado (Betancourt's CFO) to PDVSA and Nynas top management. In it, Alvarado berated recipients about the fact that Nynas was "playing with fire", owing to a crude cargo that had been returned due to higher-than-acceptable water content: "if national or international press finds that Nynas, a subsidiary of PDVSA, returned a cargo, it could cause irreparable damage to both companies and sadly to Zamora"*, claimed Alvarado.
Alvarado was acting here as officer of *Petrozamora, in short, a JV formed by PDVSA and Gazprombank Latin America Ventures, in turn a Dutch shell controlled by Betancourt and "former" Gazprom executives Boris Ivanov and Sergei Tagashov. Both Ivanov and Tagashov spent time as "diplomats" in Washington in the past. Alvarado thought appropriate to CC a lot of people in his email, which led to the leak.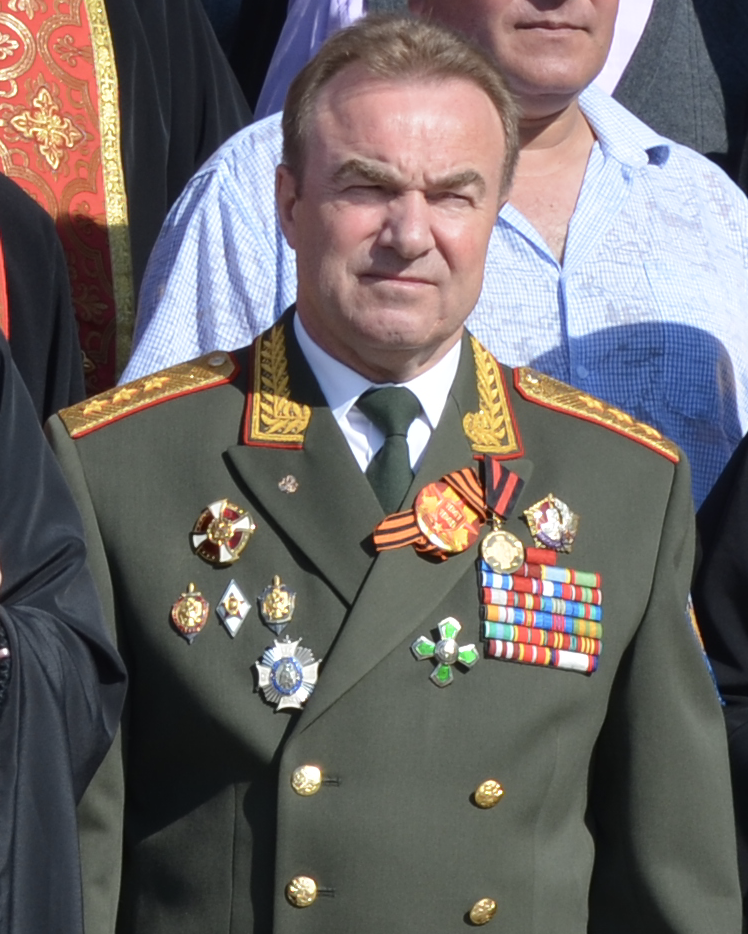 But it is another individual, whose association to Petrozamora was revealed by Alvarado's email, what makes Giuliani's work for Betancourt nothing more than that of a Russian tool: Vladimir Anisimov.
Vladimir Gavrilovich Anisimov (DoB 27/9/1955, passport 4504339601, Zagran passport 728410608, pictured May 2017) was one of the acting FSB heads that "roled" after the Beslan school massacre. He was deputy head of FSB's internal affairs and one of Nikolay Patrushev's key people. Anisimov was "dismissed" from his FSB post, and moved to "active reserve". He then emerged as head of security for Igor Kesaev, and has a number of board position, including one in High Precision Systems's subsidiary Degtyaryov.
A Google translate of a profile page, suggest Anisimov served in USSR's army between 1973 - 1977, had involvement in state security in Karelia Republic between 1977 - 1996 (under Patrushev). Since 1996 Anisimov has had different roles within FSB's central command (anti terrorism, protection of state secrets, internal affairs and investigations). Anisimov was appointed FSB Deputy Director in 2002.
Given the background, Anisimov's involvement in Petrozamora can only have one plausible explaination: an extra set of Putin's eyes in the operation. Consider his past with Patrushev (sanctioned by EU and U.S.), and the latter's current official role in Russia's Security Council. Consider the murkiness of all the characters involved. Flight records from Air France indicate that on 25th March Anisimov landed in Maracaibo, and was picked up at the airport by Venezuelan intelligence operatives.
Betancourt, then, is nothing but a Russian tool. As every associate of his, involved in gargantuan corruption. In fact, in the conspirators' list of names involved in Operation Money Flight first posted here in October 2018, number 1 is Alvaro Ledo, a PDVSA official and a member of Petrozamora's first board. Betancourt is number 2, Alvarado number 4... PDVSA does not seem to have the slightest bit of a concern, on having an associate copy Russia's FSB into its confidential affairs. Ditto Nynas.
Betancourt is in bed with all the corrupt officials of PDVSA, all the way to the very top. Betancourt got Rafael Ramirez to approve a separate money laundering scheme, worth $4.5 billion. The fact that his foray into oil has Anisimov, Ivanov and Tagashov as partners / associates, only confirms the kind of energy business he runs.
But what of his counsel? What of Jon Sale and Rudy Giuliani? If an independent investigative blogger working on his own can get this information, how could Giuliani possibly justify his work for someone like Betancourt? I'd venture a guess: Giuliani knew exactly what he was getting into with Betancourt. Giuliani must have known about Betancourt's associations with Russian intelligence. That makes Giuliani, pretty much like his client, a Russian tool.