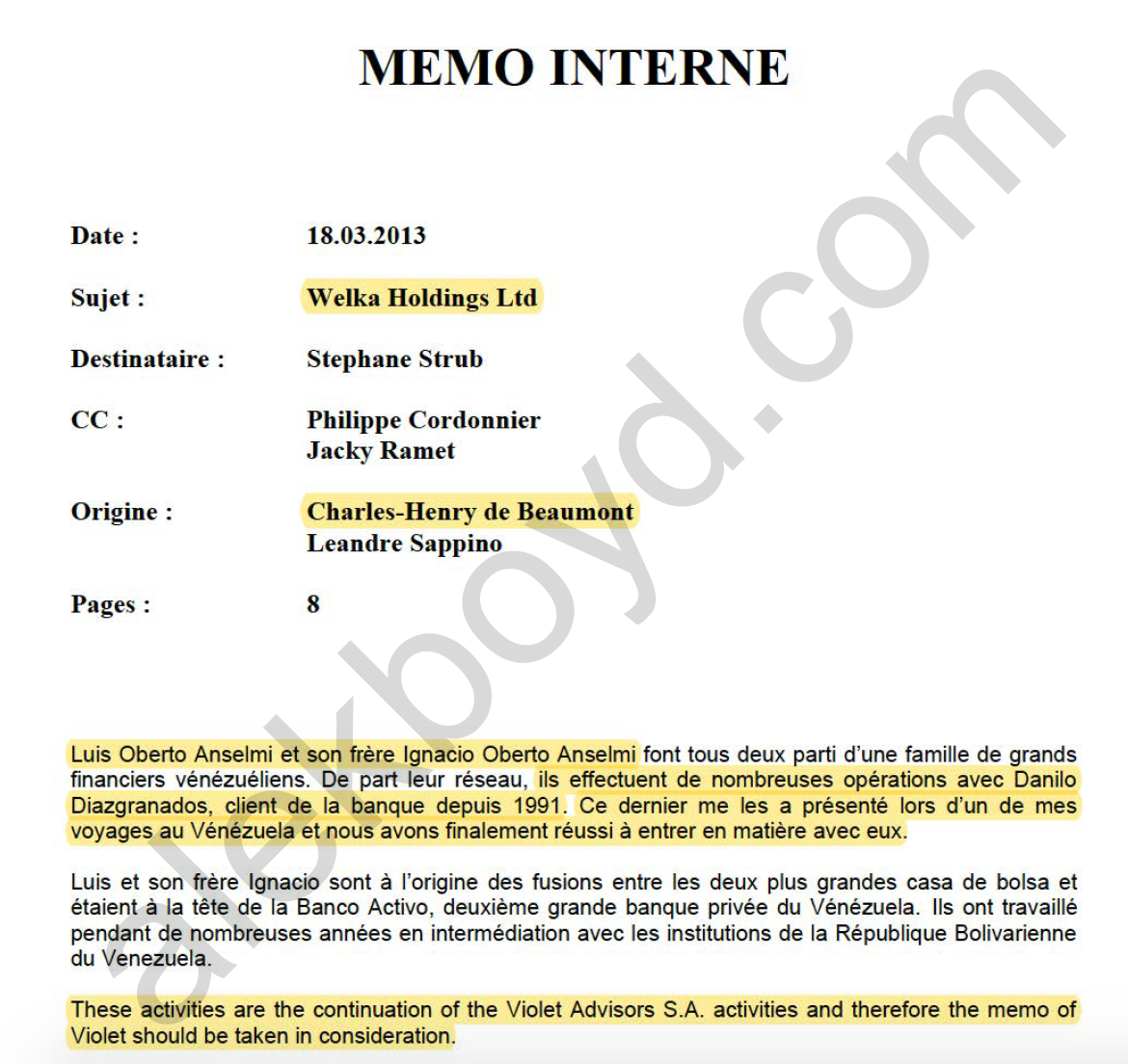 UPDATED 09/10/2020 with FINMA's reply* - On the topic of Banca Credinvest acting as a refuge where the worst scum of Venezuela were keeping some of the stolen loot hidden, and subsequent slap on the wrist from Switzerland's FINMA, I sent some questions to FINMA's press person. One of the claims in that reply puzzled me: "Let me however underscore that FINMA's mandate is to enforce the supervisory law in Switzerland, e.g. the Banks' compliance with the Anti-Money-Laundering-Regulation." (bold added) So here's an open question to FINMA: how are you enforcing compliance with AML chez Compagnie Bancaire Helvetique?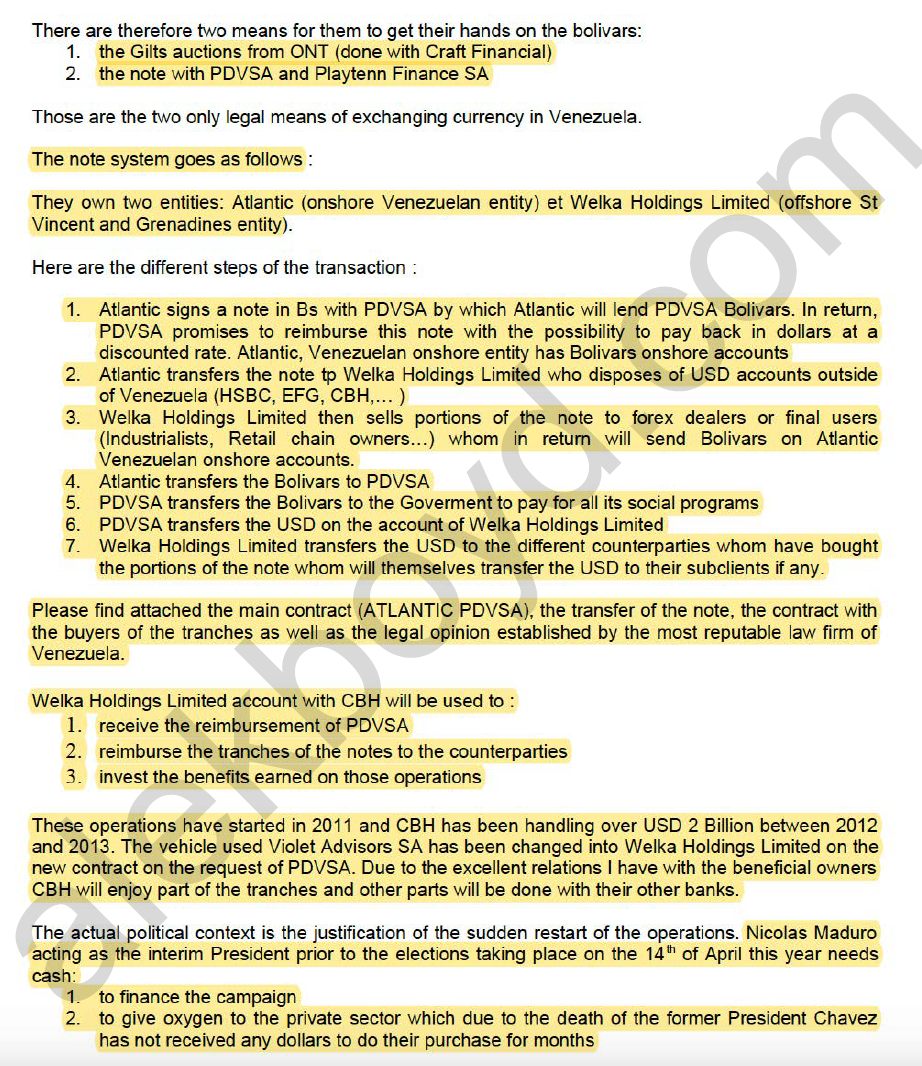 Case in point Danilo Diazgranados. As exposed here not long ago, as recently as February 2019, Diazgranados was opening accounts at Gonet bank.
Internal compliance documents from Gonet seen by this site, show that a compliance officer in Bahamas raised concerns about lack of due diligence in corroborating Diazgranados' source of wealth, adding the documentation pertaining "full approval of the Due Diligence Committee does not appear to be on file."  
Same compliance report goes on to claim that only Nicolas Gonet's approval of onboarding Diazgranados was present, "but not of the other members, such as Alfred Schaller or Kevin Price..." Central to all this compliance talk at Gonet is Patrick Feuz, another Swiss "banker" very well versed in providing money laundering services to all manner of Venezuelan thugs.
Diazgranados reportedly keeps banking relations with: Bank Safra, Julius Baer, Pictet, Credit Suisse, Credit Andorra, Compagnie Bancaire Helvetique, Bank Gonet, EFG International, Schroders, Deltec, JP Morgan, Savoy and Bank of America. Recent valuation of Diazgranados' portfolio (Q4 2018) puts his net worth at over $489 million.
Not only that. As we did in the case of Banca Credinvest and its minority shareholders Alejandro Betancourt and Francisco Convit, this site can reveal that Danilo Diazgranados was / is a shareholder of Compagnie Bancaire Helvetique. In a document created 9 October 2013 by Alexandra Gherardi (aka Alessandra Gherardi du Bosq de Beaumont, ie Charles Henry de Beaumont's wife), addressed to Joseph Benhamou, Diazgranados communicates the following:
"...I would like to confirm my decision to purchase 10,929 (ten thousand nine hundred and twenty nine shares) of Compagnie Bancaire Helvétique Switzerland at the agreed price of CHF 487.80 (four hundred eighty seven Swiss Francs and eighty centimes) per share for a total amount of CHF 5,331,166 (five million three hundred thirty one thousand one hundred and sixty six Swiss Francs)." (bold added)
So our question is: was this duly reported to FINMA, or whatever other regulatory body in Switzerland, considering the source of Diazgranados funds and track record? Almost certainly not, for if it were, and FINMA did nothing, then, what could be said about Switzerland's financial watchdog?
The worrying thing here is that Diazgranados also had dealings with Anthony Scaramucci's Skybridge fund. In fact, he was involved in some acquisition just a few days before Scaramucci headed for his two-day stint at the White House as Donald Trump's mouthpiece. If we extend a line of enquiry even further, we see that the address in Washington used by proxies of Diazgranados to book purchase of Scaramucci's Skybridge fund stake, is the same as the one used by Martin Rodil and Roger Noriega's Vision America's "think tank".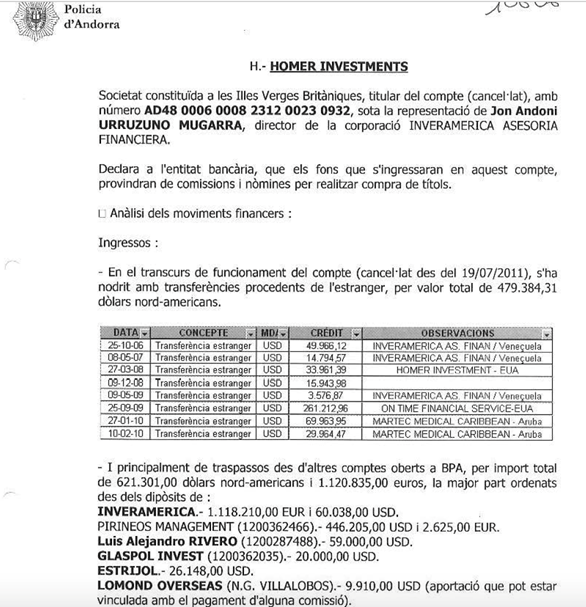 Another interesting line could be Diazgranados' co-partner in Konzapata news outlet Jon Urruzuno. Urruzuno is a (Venezuelan) UBS banker with whom this site became recently acquainted, via different money laundering activities centered at Banca Privada d'Andorra.
Compagnie Bancaire Helvetique, Danilo Diazgranados, and Charles Henry de Beaumont are already deep in criminal investigations in the U.S. in relation to the Atlantic - PDVSA $4.5 billion money laundering deal. Their activities in Liechtenstein's Landesbank are under criminal proceedings in that jurisdiction.
*UPDATE 09/10/2020: in reply to another request for comment regarding Diazgranados' stake in Compagnie Bancaire Helvetique, FINMA sent the following:
- FINMA is in contact with various Swiss banks in connection with the PDVSA. (sic)
- As part of its supervisory activities at several banks, FINMA clarified whether and to what extent the banks were involved and how the provisions of Swiss supervisory law were implemented.
- FINMA has conducted or is conducting various enforcement proceedings, in particular to investigate concrete indications of violations of money laundering regulations with a South American connection. In some of these cases the conduct in connection with PDVSA is also being investigated.
- In this context, FINMA concluded enforcement proceedings against Credit Suisse, Julius Baer and Banca Credinvest.
- FINMA does not comment on the details of our supervisory activities or any other individual names.