The U.S. Department of Justice (finally) charged Claudia Diaz Guillen and husband Adrian Velasquez with money laundering on 30 October. Diaz Guillen and Velasquez were part of a larger money laundering network that included former head of Venezuela's Treasury Alejandro Andrade, and sidekick and facilitator Raul Gorrin. Andrade is the man who famously pleaded guilty to getting $1 billion worth of bribes. Imagine, that was his take. Imagine now size of corrupt deals approved by Andrade that his "commission" was $1 billion. The bribes came from the likes of Gorrin, who became an instant multi millionaire, or is it billionaire? The first thing these criminals need after stealing so much is a bank to launder proceeds, and there's never a shortage of those in Switzerland, so let's talk about Pictet, Gonet, Julius Baer...
When Boris Collardi ran his "everything goes" business model at Julius Baer, its "onboarding superstar" was busy, servicing the likes of Gorrin and his thuggish associates. But so was Patrick Feuz, Collardi's other dauphin. In a yet to be properly reported scandal, Feuz was the personal banker of none other than Helsinge's main man Francisco Morillo. Check out the following example: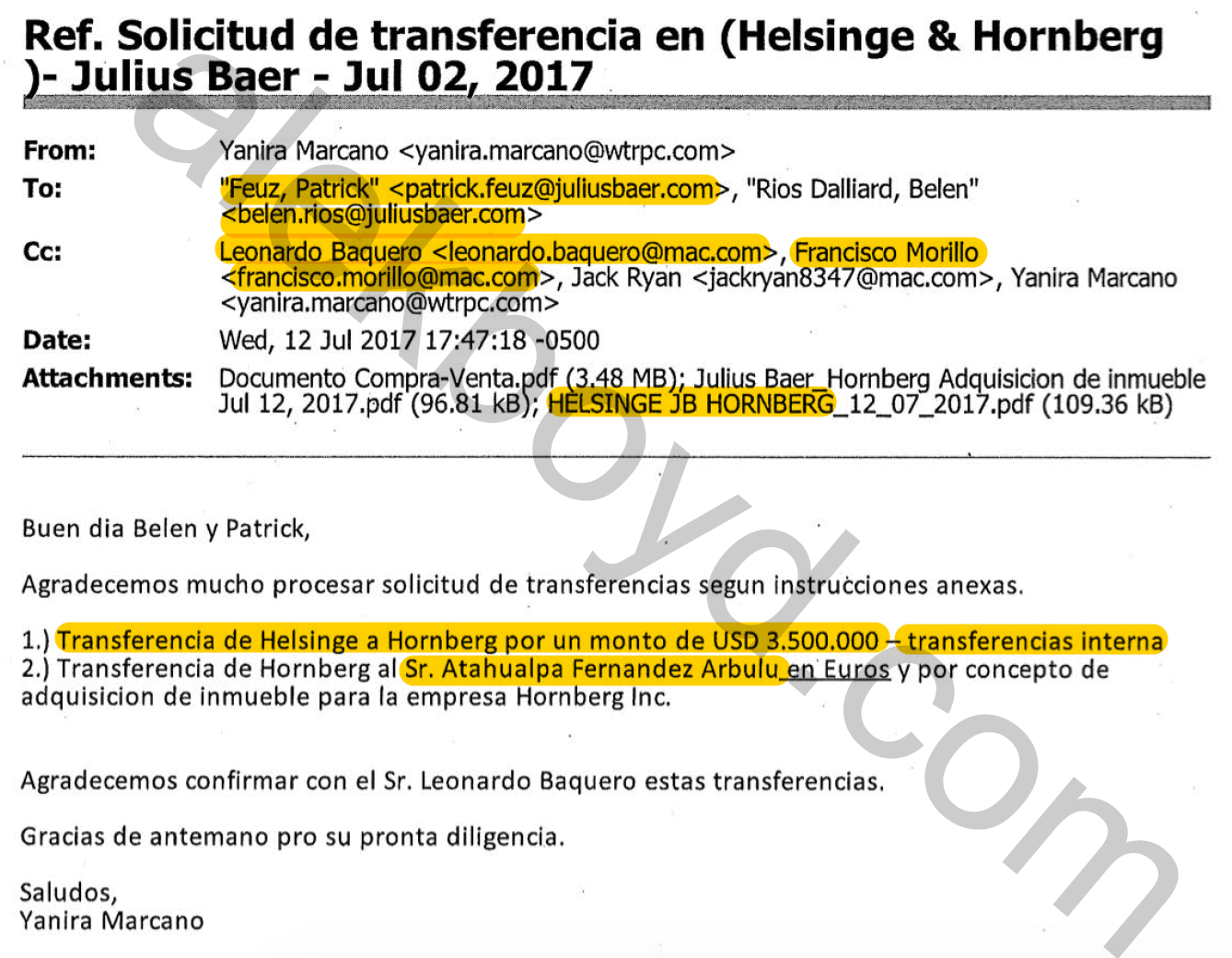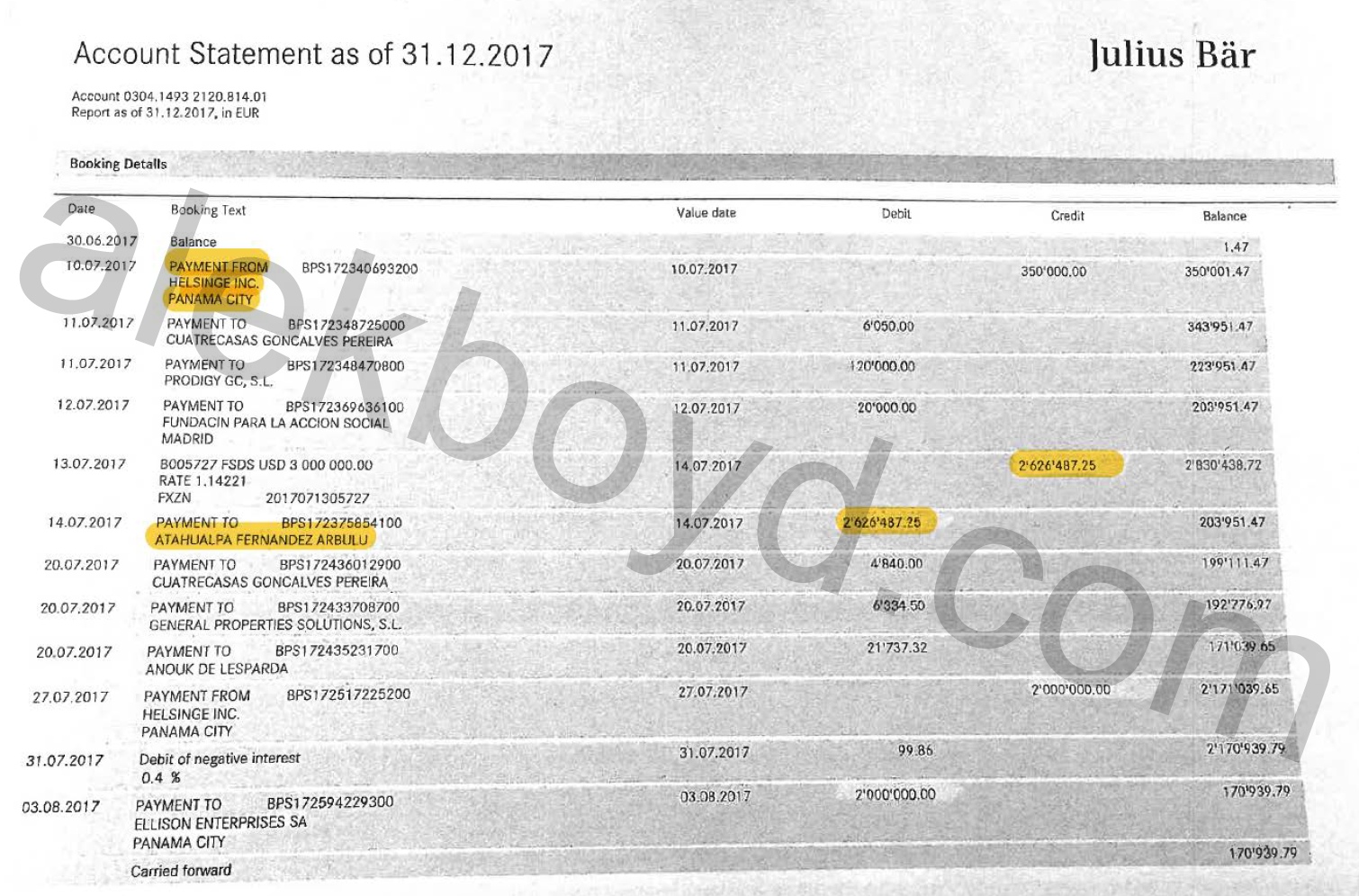 Collardi, Krull, and Feuz, however, aren't the sole examples of rampant and widespread money laundering in Swiss banks. Let's consider Pictet, Collardi's new employer. In May 2019 we posted a bit about Pictet:
"Compliance and KYC documents seen by this site show that Pictet opened three bank accounts (128588, 128589, 128590) for Adrian Velasquez and Carlos Gill in early December 2013. Isaac Topel was in charge of account openings on intros made by Alberto Valenzuela and Jose Antonio Gago. Accounts ending 88, 89 were for a credit card and a company belonging to Velasquez in Nevis. Account 128590 was for Gill. It was named Center Valley AVV, in turn a shell registered in Aruba owned and managed by Gill. While Gill is presented as chief of Corimon and has a previous track record in banking, Pictet's Topel argues that Velasquez, an army lieutenant married to Claudia Diaz Guillen involved in turn in large scale corruption at Venezuela's Treasury, "inherited from his father in law (Daniel Diner) who was active in the real estate" (sic - Daniel Dyner) sector."
How about Gonet, the new employer of Patrick Feuz? Well, we wrote about that one too, on yet more compliance and AML regulations being totally ignored in relation to onboarding of Danilo Diazgranados:
"Documents shared with this site show that Matthias Krull's indictment caused Diazgranados to panic, and to move "haphazardly" to Bank Gonet, where he is being serviced by Patrick Feuz, who moved over from Julius Baer to Gonet at end of June 2018. Feuz and Krull go back a long way, as "bankers" for Venezuelan thugs like Diazgranados. Feuz is also Helsinge's banker... Documents also show that Gonet's Chief Compliance Officer in the Bahamas reported deficiencies in Diazgranados' onboarding process (failure to corroborate source of wealth). Despite this, Nicolas Gonet was the first to approve Diazgranados' account."
Billions of dollars stolen overseas continue to flow uninterruptedly, and it is not a case of a given Swiss bank having a few rotten apples, neither it is a case of a few Venezuelan thugs banking in Switzerland. All Swiss banks are into money laundering, and all boligarchs worthy of the name have accounts in Swiss banks. Let's recall that Gorrin has been a client of EFG (Pablo Custer / Pedro Binaggia), Compagnie Bancaire Helvetique (Joseph Benhamou / Charles Henry de Beaumont) and HSBC (Angelo Mazzarella), to name some examples. 
While we remain extremely happy to see criminal probes come to charging conclusions, the reality is that DoJ is light years behind Venezuela's corruption curve. As per Swiss banks, it matters little whether they are big or small, whether they have to report and submit to auditing procedures of useless watchdogs or not, whether they're old or new, whether there's blue blood in its board or latter is formed by parvenue proxies of Venezuelan thugs, Switzerland's entire banking system is rotten to the core.