Sometime in May 2019, Daniel Lara Farias alerted me to a gig involving Gustavo Guaido and Juan Salcedo Marquez (brother and cousin of sorts of "interim president" Juan Guaido respectively). It was about some bank details related to payments, whose ultimate beneficiary was a UK shell called FIVENDES (FONDO VENEZOLANO DE DESARROLLO LTD). Guaido and Salcedo were said to have been commissioned by "president" Guaido to fundraise. Funds raised were supposed to be paid -through payment services Crossbarfx- into an account in South Africa's ABSA Bank. It took us less than a minute to find that German Rivero Zerpa was among FIVENDES officers (Juan Livinalli also involved). We shared the findings with Lara Farias, of course, who took it to Twitter to challenge Guaido. Imagine our surprise, however, when none other than Jorge Rodriguez quoted from this site's editor in a press conference, to accuse Guaido of corruption.
Rodriguez is free to say whatever he wishes, but corruption allegations aren't something anybody should have to withstand from Rodriguez, even when making selective use of what this site has published on the topic over the years (we are still waiting for Rodriguez to come clean on his / his sister personal relations with Smartmatic execs for instance). Rivero Zerpa is known to us due to his connections to Wilmer Ruperti, and, relevant to this story, to Julio Herrera (Kolster) Velutini.
Both Rivero Zerpa and Herrera Velutini are members of that class of Venezuelan 'bankers' with expertise in money laundering. Rivero Zerpa was tapped by Salcedo and the Guaido brothers to produce a UK set up well clear of Venezuelan jurisdiction. Digging another minute into Rivero Zerpa took us to another UK shell: Berkeley Capital Solutions where he shares responsibilities again with Livinalli and with Daniel Reiser. Reiser is who signs accounts submitted to Companies House on behalf of Britannia Financial Group Limited, yet another UK shell whose ultimate beneficiary (Britannia & Co Trust) is controlled by Herrera Velutini.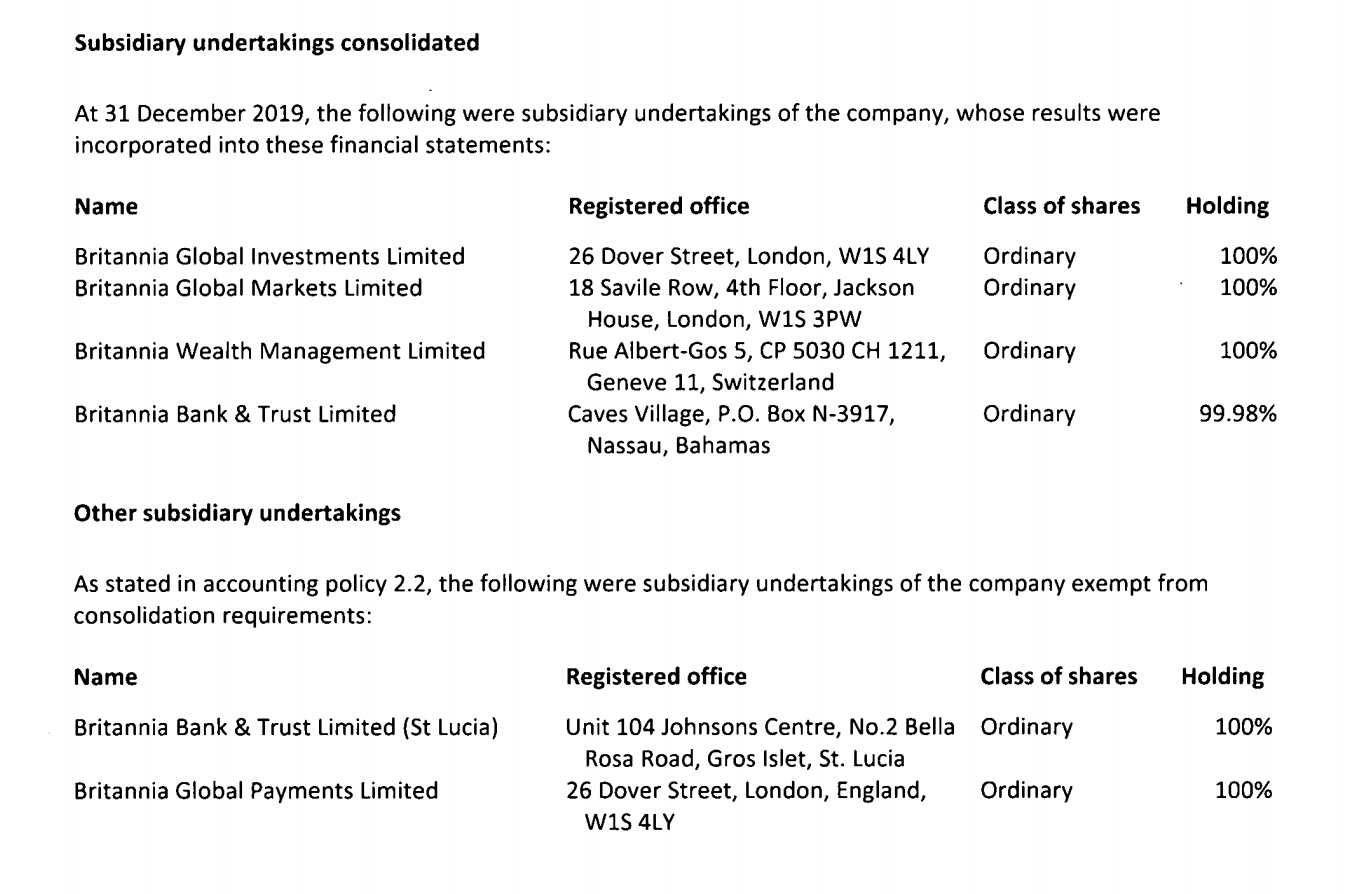 As all things with these bunch of thugs, Britannia Group is nothing but smoke and mirrors. It was first incorporated in October 2016. It reported no income for period ended 31 October 2017. It then reported accounts for a 15-month period ended 31 December 2019, where it claims to have donated £100,000 to the UK's Conservative Party.

Turnover from brokerage activities was some £10.4 million, loss of £4.3 million, and net assets of £80.8 million. It claimed to have £132.6 million falling due withinn a year from creditors, and it has been steadily issuing shares up to £143 million. The group bought a bank in the Bahamas (Amber Bank & Trust), another in St Lucia (Britannia Bank & Trust Limited), has a Wealth Management shop in Geneva, and controls the lot from corruption central: London.
Britannia Group LinkedIn page claims it was founded in 1890 and to have between 201-500 employees. Herrera Velutini claims in his Wikipedia page to have a net worth of $1.8 billion (2014 - Forbes).
In addition to the above, Herrera Velutini also controls Bancredito International Bank in Puerto Rico, which might be his undoing. Considering people involved, track record and jurisdictions used, it has all the markings of an international money laundering operation. What makes Herrera Velutini particularly interesting to this site is his connection to the Guaido brothers and, by extension, to Leopoldo Lopez. Sources familiar with his operations have told this site Herrera Velutini's get-in card was provided by Valentina Tintori, Lopez's sister in law. Had news about Tintori's and Lopez's associations with utterly corrupt and wanted by DoJ fugitives not been so prominent, perhaps the benefit of the doubt could be extended to them. As things stand, it is a certainty that Herrera Velutini and Rivero Zerpa are acting 'bankers' of Guaido and his master Lopez.
The Washington Post posted recently a piece about Guaido's appointees corruption, which is the world's worst kept secret. Guaido's 'presidency' has been a scam since day 1: the appointments, the partnerships, the manner in which humanitarian aid was spent on prostitutes, booze and first-class tickets, its 'diplomatic corps', Guaido's brother and father meeting with Alejandro Betancourt and Rudy Giuliani in Madrid, the amnesty promises made to the Boliburgeoisie... Above all, the ultimate goal of these bunch of thugs is to get their hands on Venezuelan assets held abroad. That, and that only, is what makes them tick, and since we're talking about absolutely ignorant people convinced about the canard that Venezuela is sitting on $100 billion worth of assets held abroad, forms aren't kept any longer.
Probing authorities in the U.S. digging into Herrera Velutini's 'financial activities' will very soon find that there's no difference between Maduro's chavismo and Guaido's opposition. As someone told this site: "Venezuela is a penal colony." Everyone involved in politics is completely corrupt. The shared dogma is that every last penny is there to be stolen, whether is humanitarian aid, funds raised, taxpayers money, or State resources.