*UPDATED 16/03/2020 - Nynas AB is a Venezuelan-Swedish refiner and producer of bitumen and naphtenics. It is currently undergoing a restructuring process overseen by administrators. Nynas claims that "due to the unwillingness of Nynas's banks to remit payments, with reference to the risk for secondary sanctions, incurred a credit with its main supplier of crude oil amounting to approximately 3.5 billion SEK." [bold added] Nynas main supplier of crude oil was revealed by this site to be PETROZAMORA, the dodgy joint venture set up by Rafael Ramirez with Derwick Associates criminals and their equally thuggish Russian handlers from FSB / GAZPROM. 
Nynas' association with PDVSA and PETROZAMORA isn't the only issue banks may have. As first reported here in 2016, and confirmed in Swedish media, GBP Global Resources, the Amsterdam-registered shell used by Boris Ivanov in Gazprombank Latin America Ventures B.V. is a Treasury-sanctioned entity due to Russia's invasion of Ukraine. Moreover, Gazprombank Latin America Ventures B.V. is PDVSA's minority partner in PETROZAMORA (40%) and also a Treasury-sanctioned entity. It was formed by Ivanov with Derwick's criminal Francisco Convit, a Department of Justice-wanted fugitive involved in all manner of corruption and theft of public funds. 
There is no benefit for administrators to continue dealing with either PDVSA / PETROZAMORA, or any associate of either GAZPROM or Derwick. That much is certain. That does not mean, however, that frantic behind-the-scenes actions isn't taking place.
Sources report that Alejandro Betancourt (head of Derwick) is desperately trying to establish a claim on the "3.5 billion SEK" that Nynas owes PDVSA, in lieu of crude oil shipped by PETROZAMORA to Nynas. Betancourt and his Russian partners are also said to be trying to gain control of Nynas, during this restructuring process. Another party that has been mentioned as willing to take Nynas off current administrators hands is commodity trader Gunvor.
Fredrik Björkman reports that Nynas has filed a court request seeking a three-month extension, as restructuring phase meant to be completed by yesterday failed. Nynas reportedly filed an ownership plan with U.S. Treasury's OFAC to get sanctions lifted, however no official announcement has been made in that respect.
It will be extremely interesting to see who ends up with PDVSA's 50.001% shares of Nynas. The Maduro regime does not have the kind of disposable cash, lines of credits or legal financial ability to refloat the Swedish refiner. Here's where the likes of Gunvor might be in for a sweet deal. Alas chavista financial operatives and partners -such as Betancourt, Convit, Anisimov & Ivanov- could easily raise funds necessary to acquire PDVSA's stake through proxies.
Juan Guaidó, the hapless stooge of Betancourt and head of Venezuela's "interim government", is yet to take measures to preserve Venezuela's ownership of Nynas. Considering Nynas' associated parties / providers, the U.S. Department of Justice and OFAC ought to instruct its proctologists to closely examine new ownership structure proposals, while keeping Adam Lerrick well away.
UPDATE 16/03/2020: Today I received a batch of documents -related to Nynas' reconstruction- from Södertörn District Court. One of said documents is a list of creditors, wherein GPB and GPB Energy are included.
As communicated to the court and to Sweden's tax authoritiy, neither GPB nor GPB Energy are directly involved with Nynas, unless of course, Boris Ivanov and Francisco Convit (partners in Gazprombank Latin America Ventures B.V.) agreed to transfer / sale to GPB and GPB Energy (read Gazprombank) whatever outstanding receivable Gazprombank Latin America Ventures B.V. could have had over Nynas.
Gazprombank Latin America Ventures B.V. is the Amsterdam-registered shell that Ivanov and Convit set up to get into PETROZAMORA, the joint venture with Corporación Venezolana de Petróleo. There is no trace of either GPB or GPB Energy in PETROZAMORA's formation documents.
However Swedish authorities, as well as Lars Eric Gustafsson and Mikael Kubu (appointed Administrators), ought to reject GPB / GPB Energy claims for one simple and practically unavoidable reason: both entities are sanctioned by Treasury. Gazprombank itself is also under sanctions. See, Treasury sanctions is what pushed Nynas to near bankruptcy, its banking partners refused to carry on doing business with it for fear of falling foul of secondary sanctions by OFAC. Reconstructing Nynas, with parties that are also sanctioned in different jurisdictions, makes no legal or economic sense.
Gazprombank Latin America Ventures B.V., is also a Treasury-sanctioned entity. Moreover, founder Francisco Convit is a U.S. Department of Justice-wanted fugitive, for involvement in two separate multi billion dollar laundering schemes. PETROZAMORA's board member, Alvaro Ledo Nass, is also part of one of the criminal probes being conducted by prosecutor Michael Nadler in Florida.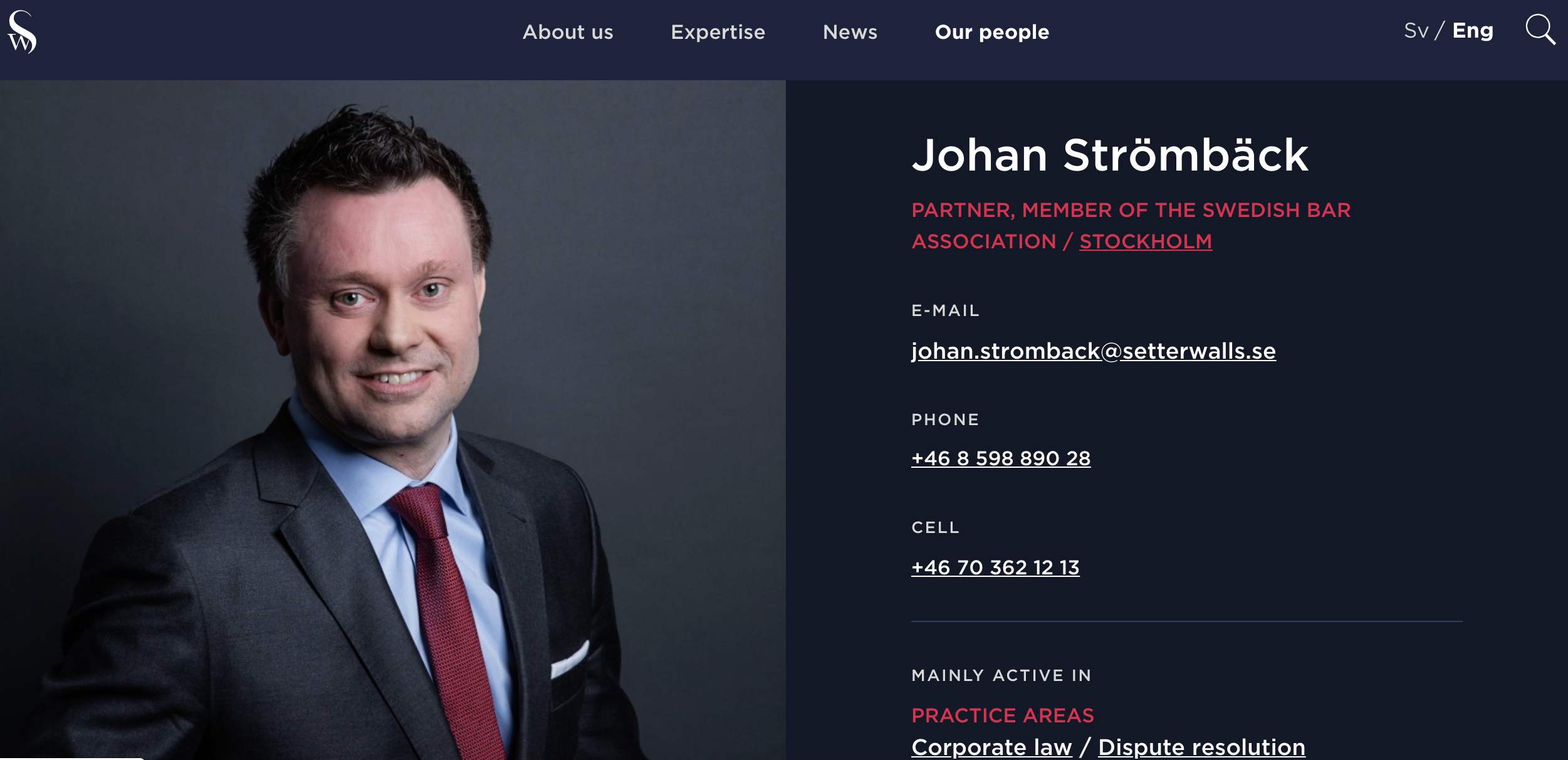 In another document, Johan Strömbäck (Setterwalls) and Anna Grygorian are described as representatives of "(the largest oil supplier)". That would be PETROZAMORA or PDVSA. There's a power of attorney issued by GBP Energy Services and signed by Gazprombank exec Vladimir Shvarts, to "represent the company " in matters related to Nynas AB company reorganisation.
This is further evidence that Gazprom / Gazprombank folk are still involved in affairs related to Venezuela / PDVSA / PETROZAMORA / Gazprombank Latin America Ventures B.V., despite fake claims made to Reuters regarding alleged divestment of interest.
GBP is, therefore, claiming through legal counsel (Setterwalls) to represent PDVSA / PETROZAMORA. Where's the PDVSA / PETROZAMORA document transfering rights of claim to GPB Energy Services?
Where's the PDVSA / PETROZAMORA document agreeing to be represented in proceedings by Setterwalls?
Considering GPB Energy Services' proxy Gazprombank Latin America Ventures B.V. 40% stake in PETROZAMORA, how can GPB Energy Services stake claim on total 3.5 billion SEK? If anything, GPB can only claim 40% of total amount.
The following requests for comment was put to Johan Strömbäck / Setterwalls. Reply will be posted here, if forthcoming. Added 20/03/2020: reply -expectedly a no comment- from Strömbäck below.
Dear Mr Strömbäck,
My name is Alek Boyd, I'm a Venezuelan investigative journalist focused on corruption.
I understand you, and Setterwalls, have been retained by GPB Energy Services (Vladimir Shvarts), to represent that company in proceedings related to reorganisation of Nynas AB.
In public documents it can be seen that you claim to represent -along Anna Grygorian- Nynas' "largest oil supplier", which would be PDVSA.
Can you please comment on what specific powers have you / Setterwalls been given by PDVSA to make such representation?
How can your client, GPB Energy Services, be staking a claim on 3.5 billion SEK, when:
1- GPB Energy Services is not directly related to PDVSA;
2- GPB Energy Services is not directly related to PETROZAMORA;
3- Gazprombank only had a 40% stake in PETROZAMORA;
4- There has been no official announcement on behalf of PDVSA / PETROZAMORA to appoint you as representative in Nynas-related restructuring, debt collection;
5- Gazprombank claimed to have quit its participation in PETROZAMORA.
I should be most grateful if you could clarify why your client is making false representations through you.
Sincerely,
A Boyd
Further to @NynasBitumen reorganisation, Johan Strömbäck -@gpbglobal lawyer and (self appointed?) legal counsel of @PDVSA- sent a reply. #Venezuela has two sets of legal counsel at this point. Chavismo has @TarekWiliamSaab, @reymp, @Dentons @robertamsterdam #Nynas? pic.twitter.com/gCWizCOctK

— Alek Boyd (@infodi0) March 20, 2020